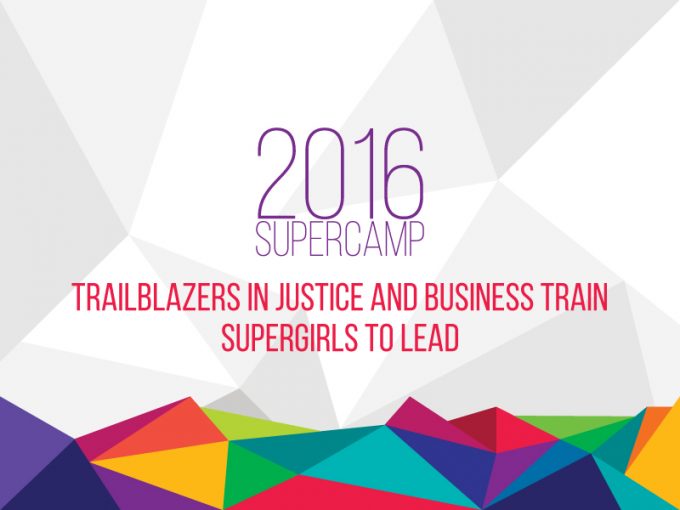 Trailblazers in Justice and Business Train SuperGirls to Lead
SuperGirls in New Jersey and Philadelphia had the opportunity to learn from and engage with social justice scholars and women business trailblazers this summer.
Social Justice Speakers
Academic scholars present on topics of cultural and social relevance that provide the girls with information and perspectives that they might not otherwise learn in school.
In Philadelphia, girls learned from two innovative scholars whose work brings topics such as institutionalized racism, xenophobia, and micro-aggressions to the fore.

Tiffenia Archie, Temple University Director of Faculty Recruitment and Retention, spoke to the girls about institutionalized racism, xenophobia and micro-aggressions. While these topics were new to the SuperGirls, they offered thoughtful responses and questions. Dr. Archie's talked inspired one of our SuperGirls to write her very own spoken word piece that inspired everyone at our finale.
Adriana Leela Bohm, Sociology professor at Delaware County Community College, spoke to the girls about social activists including Granny Nanny, Kathleen Cleaver, Ida B. Wells, Lolita Lebrón, and Bree Newsome. Sadly, girls reported not learning about many of these women in school.
In New Jersey, girls had a chance to learn from scholars whose work focus on understanding health disparities and understanding the importance of black women and girls.

Antoinette Ellis-Williams –Dr. Williams spoke with the New Jersey SuperGirls on the importance of valuing themselves and provided a comprehensive history of the contributions of Black women and girls. From Audre Lorde to Dr. Wangari Maathai, the girls learned that smart girls can change the world and always "SLAY!"
Naa Oyo Kwate – In a thought provoking lecture with Dr. Kwate, New Jersey SuperGirls learned about her intellectual biography and insight into her research that included her core findings: (1) those who think about race have better mental health outcomes than those who do not; (2) strong belief in meritocracy can impair your health because such belief is in contrast to our unjust realities.
Trailblazers
At SuperCamp, campers meet weekly with professional black women trailblazers and entrepreneurs in the areas of Finance, Art, Science and Technology (F.A.S.T). During their half-day visit girls have an opportunity to learn more about success. Trailblazers educate girls on their professions by designing and overseeing a hands-on activity that allows them to shadow the Trailblazer to provide an impactful hands-on learning experience.
This summer New Jersey SuperGirls met with three Trailblazers, Marjorie Perry, President and CEO of MZM Construction Management, Inc.; Chef Vonda McPherson, owner of Vonda's Kitchen and Duke's Southern Table in Newark; and Balanda Atis, Manager of L'Oreal's US-based Women of Color Lab and Face Lab.
Balanda Atis, Manager, L'Oreal's US-based Women of Color Lab and Face Lab. At L'Oreal, SuperGirls had the opportunity to be scientists for the day. Upon arrival they donned lab coats and goggles. They mixed ingredients to create a hair-conditioning product. They were able to test their product on a mannequin. They were introduced to the concept of viscosity in the formulation of hair gels and creams, and were shown how robotics can help with creating beauty products. L'Oreal team members Shauna and Dominic shared their career path and how they came to work at L'Oreal and specifically with hair care. Balanda Atis demonstrated how she formulates foundation to suit the various shades of women around the globe. This wonderful opportunity shined a different light on F.A.S.T. careers and showed that science can be fun and also glamorous.
Marjorie Perry, President and CEO, MZM Construction Management, Inc. – For the SuperGirls visit, Ms. Perry created an outline of a business plan for them to complete. Each girl had to come up with an idea for a business. Girls worked in teams according to the similarities of their ideas and formed companies. After brainstorming and idea sharing the girls presented their completed business plans to Ms. Perry who provided valuable feedback and insight. She discussed the importance of staying humble, and the value of service, kindness, and patience. She also offered the girls the opportunity to further develop their ideas and send them to her for a more thorough evaluation and feedback. The girls had the chance to use their creativity and gain valuable insight and information on the tools to start and successfully run a thriving business in whatever field they choose.
Vonda McPherson, Chef and Owner, Vonda's Kitchen and Duke's Southern Table. The SuperGirls visited Chef McPherson at Vonda's kitchen. She treated the girls to a healthy southern meal of Caesar salad, greens, chicken and macaroni and cheese. After the delicious meal the girls were able to sit with her in the restaurant to ask questions about her and her business. They learned how she evolved from her catering business to catering for the NFL, to opening up her first restaurant and then opening her second. Vonda's love for cooking and making people feel welcome is evident in all that she does
Dr. Cynthia Hall is an Associate Professor at West Chester University. Dr. Hall taught the girls in Philadelphia how to test soil for impurities. The girls tested the soil at Life Do Grow Farm. The results concluded that the soil at the Farm is among the cleanest in Pennsylvania, according to Dr. Hall.
4.
Trailblazers in Justice and Business Train SuperGirls to Lead