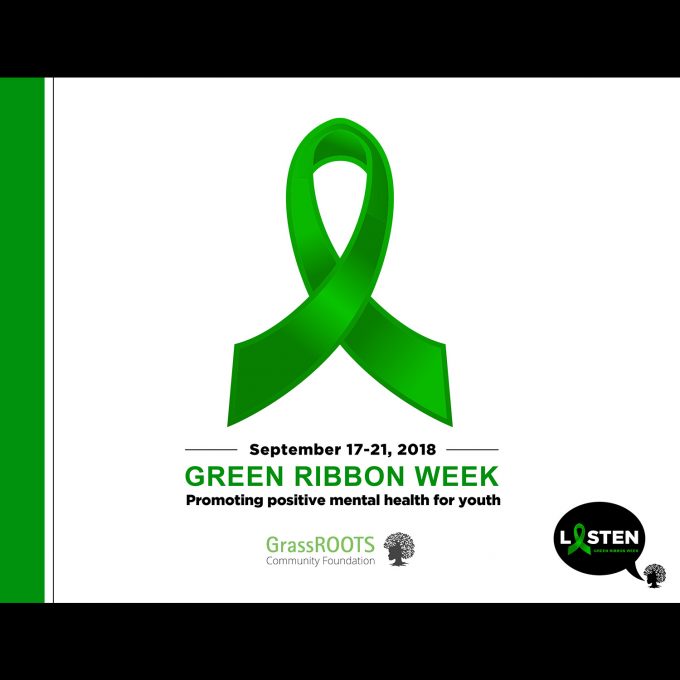 GrassROOTS SuperGirls launch Green Ribbon Week Campaign to promote positive mental health of youth.
The goal of Green Ribbon Week campaign is to promote positive mental health for youth by encouraging healthy behaviors that can prevent and/or reduce risk factors for mental disorder.
In 2017 GrassROOTS Community Foundation (GrassROOTS) collaborated with RWJBarnabas to develop the Healthcare Fellows, a pipeline of black girl leaders in healthcare. The fellowship extends beyond the traditional STEM framework to teach girls about the business, policy, implementation and operation of a healthcare system.
GrassROOTS SuperGirls received:
10-Hours of Pre-Fellowship Training

Public Health Training (6 hours)+ Professional Development (4 hours)
Training Topics included: Public Health and Health Disparity Research,
Introduction to Epidemiology, Understanding the US HealthCare System, and Prevention

32-Hours (combined) "Introduction to Healthcare" Rotations

Departments included: Marketing, Pharmacy, Social Work, Information Technology,
Government Policy, and Community Wellness

Mandela Washington Fellowship Program's Annual Hackathons Participation

Hackathon topics included: Puerto Rico Climate Disaster Response Supply Chain
in collaboration with Rutgers University

Capstone Presentation constructed by SuperGirls

SuperGirls identified a key issue that was not discussed during their fellowship.
The result is their mental health and social action initiative: #GreenRibbonWeek
We are working to create environments that support youth mental health and allow young people to adopt and maintain healthy lifestyles.
We want to use a positive youth development model that engages youth within their communities, especially their schools.
We want to make conversations about mental health as common as conversations about physical health.
Why this matters?
Depression

1 in 5 teens experience depression before they reach adulthood (Psych Central, 2016).
About 8% of teens ages 13 to 18 have an anxiety disorder, with symptoms starting around age 6 (S.A.M.H.S.A., 2017).

Suicide

Over 500,000 kids each year report to the hospital because of self-harm injury (Centers for Disease Control and Prevention, 2016).
Suicide is the second leading cause of death for youth ages 10-24 (Center For Disease Control, 2015).
3,000+ suicide attempts are made each day by children in grades 9 through 12 (Anxiety and Depression Association of American, 2018).

Impact on Educational Outcomes

1 in 3 students with mental health needs continue onto post-secondary education (National Center for Mental Health Checkups, 2015).
Kids who have high depression scores don't do well in school; they have high rates of suspension, don't do well on homework and cannot concentrate (National Center for Mental Health Checkups, 2015).
People with social anxiety are twice as likely to not finish high school (National Center for Mental Health Checkups, 2015).
Take the pledge and adopt Green Ribbon Week
I will:
Wear

GREEN

during the week of September 17-21
Get informed about mental health issues facing youth
Take the time to LISTEN to young people, rather than offering advice
Help a young person find ways to LISTEN to their inner voice
Choose to BREATHE and Talk it Out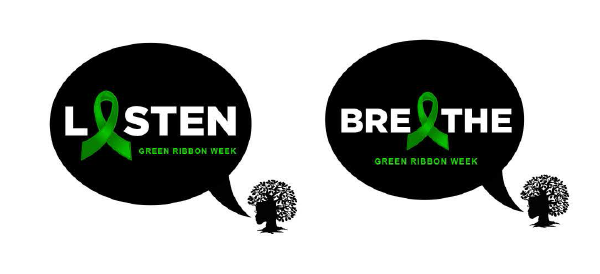 Green Ribbon Week Partners
City of Plainfield
RWJBarnabas, NJ
West Orange High School
Central High School
Speedway Academies
Essex County College
Roosevelt Middle School
Newark Beth Israel PRIDE
Mondelez International African American Alliance
GSK African American and Women's Leadership Initiative ERG