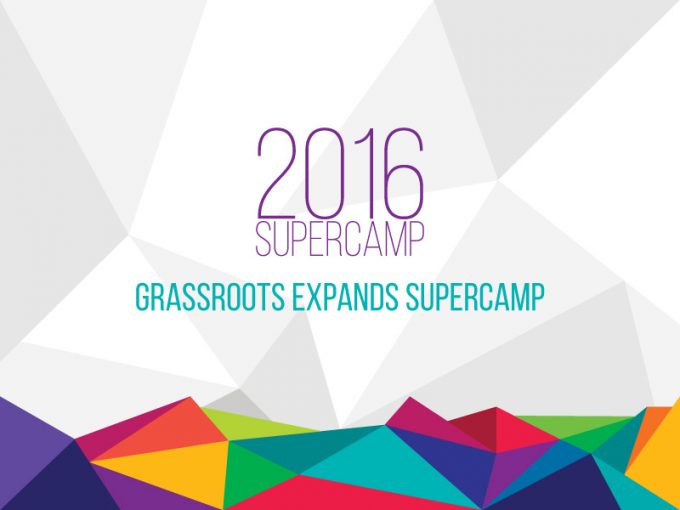 GrassROOTS Expands SuperCamp
GrassROOTS' Super Camp program had a major expansion this year with the addition of SuperCamp Philadelphia site. With two themes and one mission, GrassROOTS' SuperCamp implemented a culturally rich summer program directed at improving black girls' leadership skills and guided by the core principles of Maat.
In New Jersey, SuperGirls were introduced to the concept of Liberty. SuperGirls explored the historical meanings of freedom, how societies have defined freedom and how Africans across the diaspora have endeavored to achieve freedom. In addition, campers engaged in activities that helped them learn to apply the context of liberty in their lives: its purpose and its boundaries, the way it shapes our choices, and how it creates responsibilities to ourselves and others – both to family, in community and those in the world.
In Philadelphia, the theme of Awaken was geared toward helping our newest group of girls understand and develop a sense of self. The theme builds on the idea that once the soul awakens, the search begins and you can never go back.  This experience offered an opportunity for girls to discover the best of themselves in a nurturing, rigorous and fun environment.
Special thanks to all our SuperGirls, Caregivers and partners for helping to make 2016 SuperCamp a very special experience.
New Jersey Special Thanks to:
Team: Ali Scott, Lisa Maxwell Anekwe, Tenisha Malcolm
Junior Wellness Coaches: Dominique Scott & Jaelyn Stewart
Special Assistant: Kai Raymond
Parent Volunteer: Sonia Fergus
Youth Volunteers: Jordan Scott & Kumra Khalfani
All generous donors to our SuperCamp Scholarship Fund
The Episcopal Church of Saint Andrew & Holy Communion; The Reverend Canon Dr. Sandye A. Wilson and Patrice Henderson
All New Jersey Partners/Presenters/Trailblazers:
Alexandra Hill, Journalist, WBGO Radio
Antoinette Ellis-Williams, Professor, New Jersey City University
Balanda Atis, Manager of Global Women of Color Laboratory and US Foundation Laboratory, L' Oreal USA
Cornell Caines, Senior Litigation Consultant
Erin Young and Lillian Jones, EMQ Networks
Haile Thomas, Founder & CEO, Happy Organization
Ib'nallah Kazi, Educator, Medicine Lifestyle
Jamaica Gilmer, Founder & Co-Director, The Beautiful Project
Janit London, General Manager, Purple Dragon Food Co-Op Inc.
Jeannine Frisby LaRue, Senior Vice President, Kaufman Zita Group
Joye Allen and Sheryl Coleman, Children's Learning Tree Child Care Center
Karen Miles, Director, Zawadi Dance
LaChell Miller, Registered Dietician, ShopRite of West Orange
Lauren Mims, Assistant Director, White House Initiative on Educational Excellence for African Americans
Lisa Charles, Health & Wellness Speaker & Instructor, Embrace Your Fitness
Marjorie Perry, Presidents & CEO, MZM Construction
Naa Oyo A. Kwate, Associate Professor, Rutgers University, Department of Human Ecology & Department of Africana Studies
Sabrinah Mubarak-Lindsey, Greater Newark Conservancy
Stephanie M. Thompson, M.D., Endocrinologist and Infertility Specialist in the Department of Obstetrics and Gynecology at RWJF Barnabas
Tai Cooper, Chief Policy Advisor, City of Newark
Vanera Aponte, Owner, M.A.D.E. Stars
Vonda McPherson, Owner, Vonda's Kitchen
Wendy McKenzie, Owner, In the Wink of An Eye
Yahya Kamate, Owner, Kamate Drummers
Philadelphia Special Thanks to:
Team: Diana Gonzalez & Jeanelle Lawson
Wellness Coaches: Morgan Pettus
Parent Volunteer: Jeanine Williams
Junior Wellness Coaches: Simone Marant & Taryn Miles
Volunteers: Takeya McLeod and Tynesha Williams
All Philadelphia Partners/Presenters/Trailblazers:
Adrian Bohm, Professor, Delaware County Community College
Aja Graydon Dantzler, Grammy-Nominated R&B Singer, Kindred the Family Soul
Anthony Soto, Member of Cordau de Ouro Group
Cynthia Hall, Environmental Geochemist and Associate Professor of Geosciences, Department of Earth and Space Sciences, West Chester University
Leslie Marant, Owner & Founder, Temple Building Fitness, LLC
Norma Porter Anthony, Dance Instructor
Jeannine Kayembe, Co-Executive Director, Philly Urban Creators
Ra Hall, Photographer, Art Thru The Eye Ov Ra
Rakia Reynolds, CEO & Founder, Skai Blue Media
Sandra Welch, The Underground Yogi
Shir-Rhea Watson Moore, Financial Leadership Coach, Stewart Financial Group
Tiffenia Archie, Assistant Vice President, Diversity at Temple University
Community Partners Needed
We are seeking community partners in Germantown so we can evaluate the feasibility of our social action and wellness curriculum. If you are located in zip code 19144 and service a large population of girls, please contact Diana Gonzalez at dgonzalez@grassrootscommunityfoundation.org.