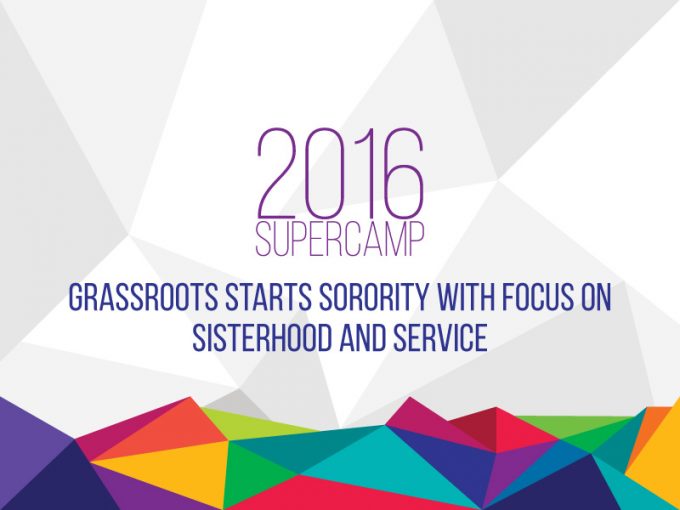 Grassroots Starts Sorority with Focus on Sisterhood and Service
In response to the community requests, the GrassROOTS Community Foundation has formed the SuperGirls Society.
The purpose of the SuperGirls Society (SGS) is to support the health and wellbeing of Black girls, foster Black sisterhood, and to serve as an example of Black girl excellence. SGS is a branch of the GrassROOTS Community Foundation's SuperCamp program. Based on the four principles of Maat: Truth, Order, Balance, and Reciprocity — this unique association will provide a safe community space for public health and social action programming for girls of African descent.
SuperGirls Society realizes the importance of sisterhood and service and the need to work together to improve the general welfare of our community.  As a group of adolescent girl changemakers, we will strive to provide and maintain a partnership between academic excellence and high ethical standards, as well as remain actively involved in the advancement of our communities.  Through sisterhood, unity and social justice we seek to strengthen the bond of friendship and empower young leaders.
To qualify for membership in the Alpha chapter, which will begin in October, trainee SuperGirls
Must be 1st thru 8th grade
Complete at least 15 hours of community service
Maintain a B or greater average in all her academic courses
Enrollment period is from September thru January. New members are admitted in January. A maximum of five girls will be admitted into the SGS for 2016-2017.  Membership fee is $200 annually.
Membership has its privileges:
Admitted members into SGS are guaranteed acceptance to SuperCamp
Exclusive SGS experiences (i.e., White House, trips and other special events)
Fieldtrips
Meet and Greets
Learning opportunities with high-level executives, government officials, etc.
SGS Fun Days (i.e., movies, indoor fun parks and live performances)
SGS membership jacket at reduced cost
To become a member of SGS, please email Ali Scott, SGS Advisor at ascott@grassrootscommunityfoundation.org. Eligible candidates will be invited to participate in our monthly social action and service projects.
Current Officers:
President                     Marley Dias, Founder of #1000blackgirlbooks (IG @iammarleydias)
Vice President             Tori Fergus, Creator of #FullCourtDress
Secretary                      Amina Anekwe, Creator of #MathWizGames
5.
Grassroots Starts Sorority with Focus on Sisterhood and Service