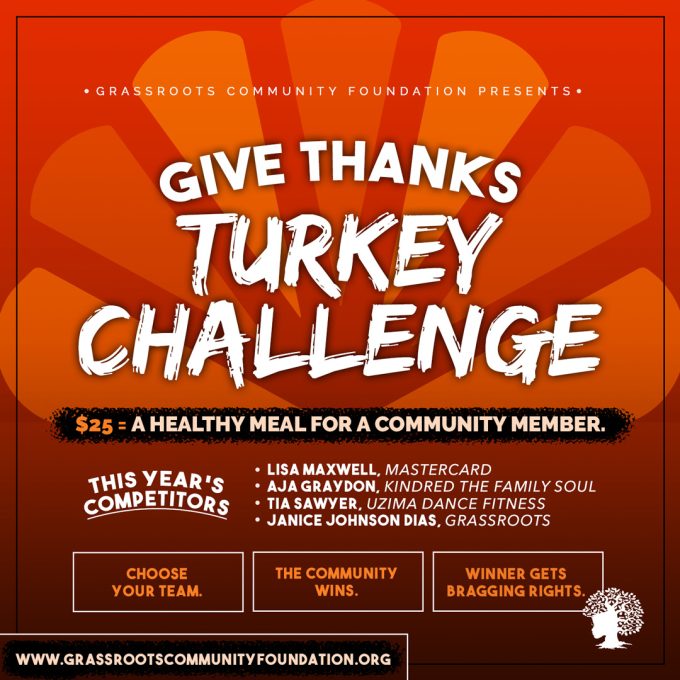 Since 2014, GrassROOTS board members, celebrity ambassadors, and partners have participated in a friendly online competition to see who can provide more healthy meals for families.
The pandemic has created unprecedented challenges for families, especially those with children and the elderly. This year, like last year, we have witnessed an increase in food needs. Though we strongly advocate for policy responses to issues of food insecurity, we will continue to attend to emergency needs that arises over the holiday season.
We have committed to providing healthy meals for community members living in Newark, New Jersey, Philadelphia, Pennsylvania and Atlanta, Georgia.
To date, GrassROOTS has gifted the community 12000 turkeys and 1000 pounds of fruit and vegetables.
Each $25 that you donate will provide community members with a turkey, 5lbs of fresh fruit and vegetables along with some of the fixings.
It's that simple!
We have renewed our usual friendly competition via social media. Choose your team and support them in their effort to provide meals for families in need. If you can't decide, please feel free to donate to the general fund. The community is the real winner.
WAYS OF GIVING:
1. Choose your team
Aja Graydon-Dantzler, Kindred the Family Soul
TeamAja.GCF.Care
Lisa Maxwell, Mastercard
TeamLisa.GCF.Care
Tia Briggs-Sawyer, Uzima Dance Fitness
TeamTia.GCF.Care
Dr. Janice Johnson Dias, John Jay College
TeamJanice.GCF.Care
2. Donate directly at to our general Give Thanks via PayPal
For more information on Turkey Drive results and Give Thanks event, please click here.
Give to your team. The community is the winner.