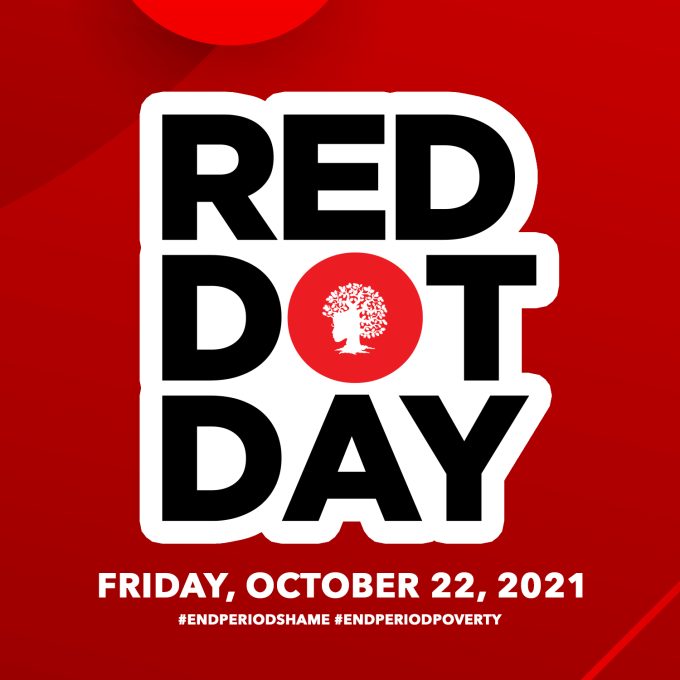 Join the GrassROOTS SuperGirls' public health initiative #RedDotDay: a campaign to normalize conversations about periods and support efforts to end period poverty.
#RedDotDay is October 22nd
The campaign aims to draw attention to matters of gender equity so we can:
End the stigma and shame associated with periods
Encourage all genders to become collectively informed about the importance of periods
Increase free access to menstrual essentials
Support legislative action to end the tampon tax
Daily Roll-Out (click each day to view)
History of Red Dot Day  and GCF 's effort to  #EndPeriodPoverty
In 2016, October 18 to 22 was dubbed Period Awareness Week by Author and Activist, Shelly-Ann Weeks of the HerFlow Foundation, Jamaica, West Indies.  The week was designated to focus conversations about periods with a focus on addressing the stigma and shame associated with menstruating.
Stigma affects the social, psychological and economic experiences and outcomes of women and girls–and all menstruators.
At GrassROOTS, our goal is to become collectively informed so that we can formulate, co-create and support solutions to these often intractable issues.
GrassROOTS' Board Member Lisa Maxwell and SuperGirl Amina Anekwe have collaborated together as a mother-daughter team to lead this social justice initiative.
We have taken a global approach to the issue of period poverty,  working in partnership with local organizations to support girls in New Jersey, Jamaica, and Ghana. In Jamaica, we partner with HerFlow Foundation to support local programs. Our partners include:
New Jersey

West Orange NJ: Almost 50% of students at West Orange High School qualify for free or reduced lunch, an indication of need (Source: https://www.publicschoolreview.com/west-orange-high-school-profile/07052).
 In 2020, we collaborated with students and administrators of West Orange School District, West Orange High School Student Council and West Orange Airforce JROTC,  and HerFlow Foundation to deliver online training about menstruation.
The event culminated in our inaugural Red Dot Day on October 24, 2020, where we collected nearly 20,000 pads and tampons, and delivered necessary period supplies for youth receiving free and reduced lunch.
Newark NJ: We partnered with Uzima Dance Fitness to build the Red Spot Pantry at Central High School in 2019. Together with volunteers from Mastercard, GrassROOTS built its first pantry of free shelf-stable foods and free period essentials for all students at Central.
We have also provided supplies to the Shani Baraka Resource Center and Apostle House.

Ghana

Working in collaboration with Cathy Ekar and The Rotary Club of Accra-Airport City, GCF team traveled to Ghana to donate over 20,000 period supplies to urban and rural communities.

Immaculate Conception; Kpando, Volta Region
Zosimli Girls School; Tamale, Northern Region
Tarkwa Banso Primary School, Western Region
Bakhita Home; Accra (home to orphaned girls)
Carol Gray School, Somanya Trom, Eastern Region
Unity Junior High School, Maamobi, Accra

Jamaica

In collaboration with HerFlow and Shelly-Ann Weeks, we have held the Invest in Girls Summit that provided supplies to St James High School in Montego Bay, Jamaica. We have also helped in providing supplies to women who are incarcerated in Jamaica's women's prison.
Join us in this work.
Are you working to #endperiodpoverty?
Over the past year, we at the GrassROOTS Community Foundation have been working to build a comprehensive and international database of those who are working to #endperiodpoverty.
We want to be inclusive and make sure that those working with vulnerable, disenfranchised and under-resourced communities are included in the database.
Are you working to #endperiodpoverty? Do you know of an organization doing this work? Do they serve POC, members of the LGBTQIA+ disabled community or those who are incarcerated? If yes, we want to hear from you and include you in our database.
Click the button below to fill out the form.