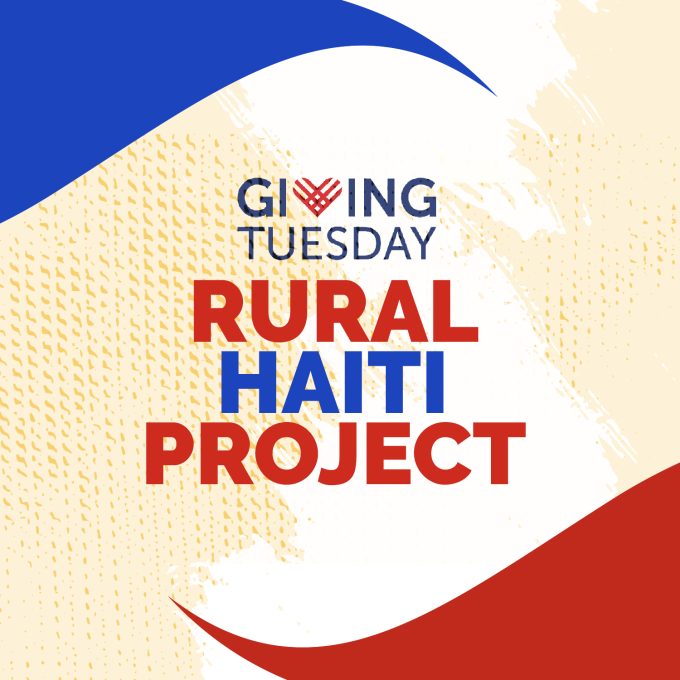 This Giving Tuesday, I am asking for help to raise $25,000 for the rural community of Guirand, Haiti and the Love in Action School and community center.
In August 2021, Haiti once again experienced a deadly earthquake, quickly followed by Hurricane Henri. These disasters resulted in the deaths of over 2,000 Haitians and left many more injured.
In the case of such disasters, the philanthropic community typically galvanizes to provide "essential" services and resources. However, some of the most important needs are often overlooked. More specifically, the needs of women and girls. We must also not forget that these natural disasters are occurring during a global pandemic which has been described as a fem-demic and a she-cession, because of the uneven and devastating impact COVID-19 has had on women across the globe.
We are asking for your help to fill the gaps faced by women and girls.
Women are primary caregivers and the largest percentage of the essential work force; their health and wellbeing is therefore foundational to the health and wellbeing of the wider community. The previous and recent natural disasters interrupt women's ability to keep themselves and their families safe. Of particular concern in Haiti are:
1.      Contaminated Water: The latest environmental erosion has contaminated the water, and use of the water compromises the well-being of all persons, especially girls. Health officials report high rates of urinary tract infections (UTI) and fungal infections among girls and women because they use the water for bathing.
2.      Access to Education: As expected, many schools have been destroyed or closed due to damage from both disasters. Therefore, children cannot attend school, stymying their educational opportunities. Research warns us of the long-term implications of losing out on an education. We know that women with some formal education are more likely than uneducated women to use contraception, have fewer children, marry later, and be better informed on the nutritional and other needs of children. We must keep children, particularly girls, in schools.
3.      Period Poverty: Even before these natural disasters, some girls were missing school because of the lack of menstrual supplies. Across the globe, girls miss almost 3 months of school because they do not have the resources they need. Periods do not stop in a pandemic or in natural disasters and neither should we.
The GrassROOTS team has been working across the globe for years to support the needs of women and girls, especially those living in rural communities. Many on our team come from similar beginnings and have experienced hardships first hand, including our President who grew up in rural Jamaica. In 2019, we visited Haiti to donate supplies to vulnerable youth. Photos here.
This Giving Tuesday, we are focused on the community of Guirand, Haiti, located almost 200 miles from the capital city of Port-au-Prince.
On our trip, we donated $5,000 to an orphanage and gave away over $13,000 worth of educational supplies to students at the Love in Action School, in the rural town of Guirand.  Through this effort we granted the wishes of 100 youth which included gifting two goats, one cow, money for a medical procedure, over twenty bicycles and a computer.  We also donated 100 books from Marley Dias' #1000BlackGirlBooks initiative.
We were touched by the members of the community of Guirand and are heartbroken when we learned that they are suffering because of the recent disasters.
In support of their efforts, GrassROOTS has set a target goal of raising and donating $25,000 to the Love in Action School and community members in Guirand, Haiti by the end of the year.
With the help of our community partners at GlaxoSmithKline and Bristol Myers Squibb, we are also collecting the following items for 1,000 women and girls:
Menstrual essentials (pads, tampons and wipes)
Medicine for fungal infections
Medicine for urinary tract infections (UTI)
Donations of essential products can be sent to our office at 59 Main Street, Suite 323, West Orange, New Jersey. To donate, use the Amazon link.
GIVE PRIVATELY: You can donate directly to: Rural Haiti Project.
GIVE PUBLICLY: Donate on our Facebook fundraiser page
Share and support us on social media, Follow our project on Instagram and Facebook and share with friends.
Sample language:
Example 1: This #GivingTuesday, join me in supporting women and girls in Haiti. Every dollar counts.
Example 2: I am donating women and girls in Haiti on this #GivingTuesday, join me.
Example 3: I believe in investing in women and girls here in the US and across the globe. Please join me this #GivingTuesday by making an investment in the #RuralHaitiProject