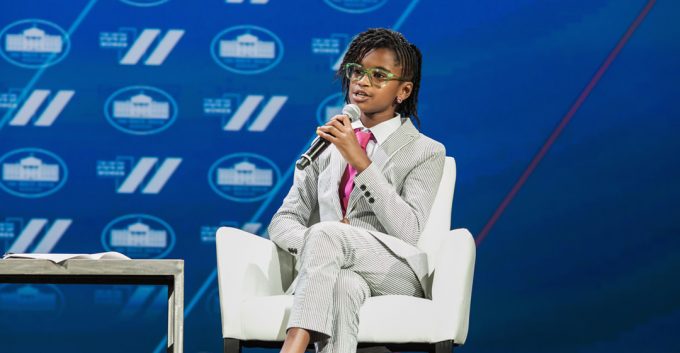 Today we're celebrating girls like Marley!
Thank you United State of Women for highlighting SuperGirl Marley Dias.
Meet Marley Dias, one of the youngest changemakers we know. As soon as she learned how to read, Marley couldn't put books down. But she quickly realized there were far more books about boys and their dogs than about girls that looked like her. And at the young age of 11, Marley decided to do something about it. She began collecting books where girls of color were the main characters. What started as just a handful of books has turned into a collection of more than 10,000! And Marley is on track to collect #100000BlackGirlBooks next year.
Marley's story started small –but that spark fueled a movement in girl's literature and representation. So today, on International Day of the Girl, we want to know about what sparks you. What idea do you have or project have you just begun? What change are you hoping to fuel in your community?
Tell us how you're making change for women and girls in your community!
The United State of Women is collecting stories like Marley's and we want to hear from you! We're inspired by the work of women and girls across the country and we want to help keep this momentum strong. Something big is coming down the pipeline, but first we want to hear what you're doing in your communities!
We want to hear from you → Share your story!
Big or small, the things we do in our communities today will help create a world that's more empowering for future generations of young girls. And we're committed to helping you plant those seeds – whether you've started a mentoring program for young girls or you're funding a community playground or providing low-cost training to girls in STEM, we want to know how you're changing the world!
Thanks for everything you do,
The United State of Women Team