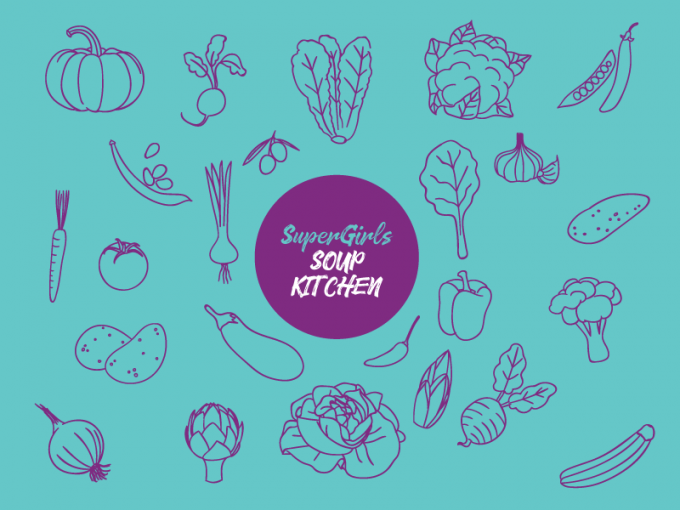 SuperGirls supporting their Soup Kitchen
GrassROOTS Community Foundation is a public health and social action organization that trains young girls to become leaders and changemakers. In so doing we teach our girls the core principle of RECIPROCITY. Girls in all of our programs must give back to their communities, for in giving back they learn the importance of sharing and community cohesion.
For the past three years, our SuperGirls in New Jersey have volunteered at a local Soup Kitchen. Each month, they interact and learn from community members who utilize the services of the soup kitchen. Please read two accounts of their experiences.
Giving and Teamwork: Soup Kitchen
By: Olivia Raymond
On Saturday, December 17, 2016, at 10:30 am, some of my fellow SuperGirls of the GrassROOTS Community Foundation and I volunteered at the Holy Trinity Episcopal Church in West Orange. Their soup kitchen serves people with food insecurities in my town and is always busy. We volunteer our time so we can interact with different people in our community and give them the love and compassion that they deserve. This was not the first time at Christine's Soup Kitchen. Part of the Super Girl Society's action plan is to volunteer there one Saturday each month.
We all had to work as a team to prepare and serve the food. Each SuperGirl did different tasks. Some put the plates and utensils on the trays while others placed the food on the buffet table. Also, SuperGirls and I cut the vegetables to put in the salad (which was a lot of fun). Our parents worked with us. One of the SuperDads showed his daughter how to cut the turkey. After we prepared the food, we had to set it out nicely on the serving tables. Everyone's favorite part was the desserts.
Once everything is organized, we open the doors. Many different people came flooding through the church doors: some sad, some happy, some looking insecure or ashamed. No matter what the people were feeling all of us had a big smile on our faces while we were serving or greeting the people. We all worked as a team. Some SuperGirls served the meal, others gave out salads, and the last group of girls at the end of the table served the desserts.
People who needed meals came in at different times so we, SuperGirls worked until the line there were no more people on line While the people we were serving ate, some of the SuperGirls passed out gifts that some Super families brought for the kids who were there.
After cleaning up, we all gathered to talk about what this event meant to us, Ms. Eleanor Wills who cooks the meals mentioned the spirit of giving. From this experience, I gained more knowledge about teamwork and compassion for others. Even though the morning started cold and snowy and everyone was tired by the end, I thought it was the best time and most fun we have had together as we learned how to work together better and complete a task improving other people's health and well-being.
Just Like Me: My Soup Kitchen Experience
By: Brielle Pierre-Philippe
My experience helping out at Christine's Soup Kitchen was amazing. Since I had never helped out at a soup kitchen before, I wasn't expecting that people who looked just like me would walk through the door. It's funny to think that these everyday people could actually be in a time of need, whether it was a short period of need or an extended time. I also didn't expect to see all the varieties of food. This might sound silly, but I was expecting to only make soup (as per the name)!
GrassROOTS Community Foundation does many things in order to help other people in any way possible. I think that encouraging girls like me to help people at a soup kitchen is beyond incredible. When I was out there, doing my part to better society, even if it only helped a dozen people as opposed to thousands, I was really proud of myself. Recently, there are a lot of sad, discouraging things happening in the world today.  Doing things like serving meals help make up for it. I believe everyone should do their part to make the world a better place, even if all you can do at the moment is recycle a plastic bottle.
I helped make the food, I helped serve the salads, and I did much more. I tried my best and had fun every step of the way. I like to think that by giving up just a few hours of my time, I could be impacting so many people's lives in a positive way. I felt happy that I could make someone's day with this work. This also made me conscious of how grateful I was that I had such a wonderful family who could feed and clothe me, and I was also grateful for friends and colleagues who would encourage me to be my best self. For this I owe a huge thank you to the SuperGirls Society for opening my eyes to this issue of food insecurity. Things like helping out in a soup kitchen, no matter how small you may think they are, could help shape the minds of tomorrow's leaders and result in a brighter future.