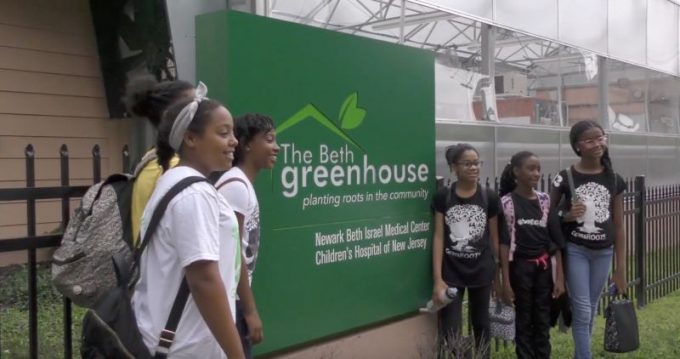 HealthCare Fellows Program
This summer SuperCamp introduced a groundbreaking program for LEAVES girls, the HealthCare Fellows Program in partnership with RWJBarnabas Health. Over four weeks LEAVES SuperGirls (grades 5-8) interned at five designated work sites within the RWJBarnabas System including Newark Beth Israel Medical Center and Saint Barnabas Medical Center.
The long term goals of the fellowship program were to help to decrease healthcare's influence on health disparities; Increase secondary educational achievement for girls; and support community infrastructure. Immediate goals were to familiarize the girls with the operations of the healthcare system and policy. The fellowship has positioned SuperGirls to enter into and lead in the fast growing healthcare industry. Through this fellowship girls learned about innovation in health as well as the way to respond to contemporary healthcare needs.
Prior to starting their Fellowship, the girls underwent 14 hours of training which included three hours of mentor training including discussions about bias and intersectional identity led by Dr. Tamara Leech from the Fairbanks School of Public Health at Indiana University. Additional presenters included Dr. Melody Goodman of NYU College of Global Public Health; Dr. Sandra Echevarria of CUNY Graduate School of Public Health and Health Policy, and Cynthia Weinman of Weinman, Schnee, Morais, Inc.
Under the guidance of RWJBarnabas healthcare professionals, the girls had seven rotations including:
Week 1 Marketing
Week 2 Pharmacy Services
Week 3 Information Technology
Week 4 Outpatient/Children's Hospital
Week 5 Community Wellness
Week 6 Policy Development and Government Affairs
Week 7 Social Work
At the close of the fellowship the ten girls split into two groups to create a capstone project on a healthcare challenge facing women and girls in New Jersey. Both groups focused on mental health. The projects were presented to RWJBarnabas Health leadership including President and CEO Barry H. Ostrowsky and Executive Vice President and Chief Corporate Affairs Officer, Michellene Davis, Esq. GrassROOTS is  looking to expand the program next year.