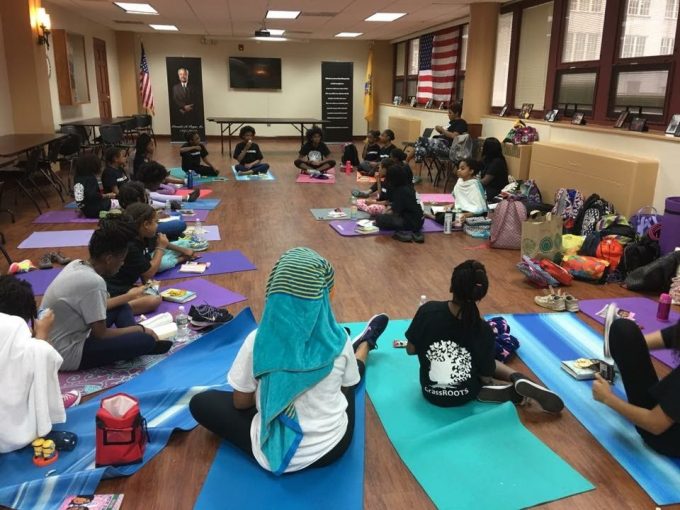 SuperCamp 2017 was an incredible four weeks filled with learning, building, growing and leading. This year's theme RESISTANCE exposed the girls to issues around bullying, white supremacy, immigration, the arts, and the legal system. SuperGirls heard from renowned scholars including Khalil G. Muhammad, PhD, Professor of History, Race and Public Policy at Harvard Kennedy School, Mary Stricker, PhD of Temple University and professionals like the Honorable Victoria Pratt from Newark Municipal Court and Public Relations Professional and cultural curator Tiana Webb Evans to name a few.  The enriching schedule of activities, lectures and field trips were all designed to enhance the girls' knowledge and expand their ideas of what is possible for their futures.
Every Wednesday during SuperCamp, SuperGirls traveled to the Newark YMCA where they hosted the Black Girl Book Club in conjunction with the #1000blackgirlbooks campaign. SEEDLINGS engaged in lively discussions about their two books, Keena Ford and the Third Grade Mix Up by Melissa Thomson and Nikki & Deja: Wedding Drama by Karen English. SEEDLINGS discussed their favorite characters and highlighted the parts  of the books they enjoyed most. LEAVES girls read Brown Girl Dreaming, a memoir by Jacqueline Woodson. LEAVES shared their favorite passages and discussed how they identified with the story and the characters.
In a special edition of Black Girl Book Club the SuperGirls visited the Brooklyn Public Library for an exclusive conversation with Jacqueline Woodson. Ms. Woodson shared her inspiration for writing Brown Girl Dreaming, read her favorite passage and talked about why she chose to become a writer. The girls participated in a Q&A discussion with Woodson which made for a lovely literary afternoon.