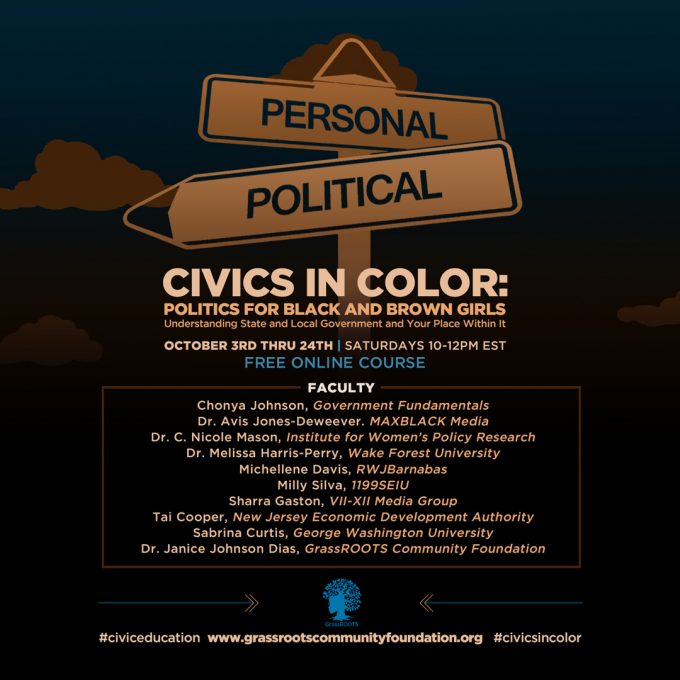 Free Civic Education classes
Civics in Color: Politics for Black and Brown Girls
Understanding State and Local Government and Your Place Within It
October 3- October 24
10-12pm EST
This 4-week series examines the basics of state and local government and how Black and Brown girls can leverage their personal and political power in their local communities. We will study the practice of civic engagement, political processes, traditional and digital literacies, as well as Black and Brown girls and women's influence on community, democracy, and social change.
Chonya Johnson, Government Fundamentals
Dr. Avis Jones-Deweever. MAXBLACK Media
Dr. C. Nicole Mason, Institute for Women's Policy Research
Dr. Melissa Harris-Perry, Wake Forest University
Michellene Davis, RWJBarnabas
Milly Silva, 1199SEIU
Sharra Gaston, VII-XII Media Group
Tai Cooper, New Jersey Economic Development Authority
Sabrina Curtis, George Washington University
Dr. Janice Johnson Dias, John Jay College of Criminal Justice
Register closes September 30, 2020
This class is free. All over the age of 12 are encouraged to apply, particularly anyone who identifies as a girl or woman and Black, Hispanic, Latinx or Chicana.
---
APPLICATION FORM