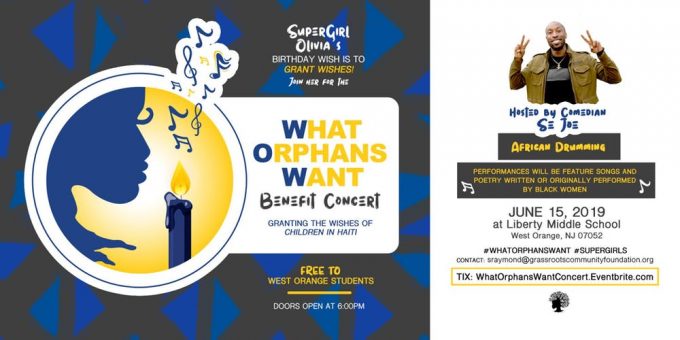 Join SuperGirl Olivia in granting the wishes of children in Haiti. Using the power of song, we are raising funds to help children in Haiti.
About this Event
There are more than 32,000 orphaned youth living in Haiti, more than anywhere in North America, do not always get what they wish. Most of these children became orphans after the 2010 earthquake, placed in orphanages by their parents to keep them alive. Others are in orphanages because their family members have died, leaving them with no one to care for them.
Using the power of song, on her birthday SuperGirl Olivia is hosting a youth benefit concert to raise funds so I can grant the wishes of 100 orphaned youth.
All musical performances will be from songs written by or originally performed by black women.
Comedian SeJoe will serve as Master of Ceremonies. Join us for a fun evening of fun and celebration. Free to all West Orange Students.
Feel free to bring a few school supplies with you. We will also be filling up 100 backpacks with back to school goodies.
#investingirls #SuperGirls #1804 #WhatOrphansWant