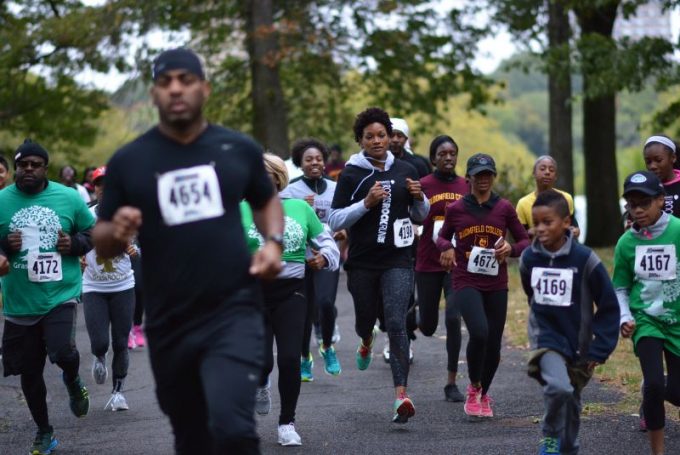 Roots, Rock, Run 5K in Newark Results and Pics
"Let's get together and feel alright" is the slogan for GrassROOTS Community Foundation's 1st Roots, Rock, Run 5K in Newark, New Jersey, on October 1, 2016. Despite the inclement weather, the race had over 150 runners and walkers at Weequahic Park in the city's South Ward.
The energy of the largely Black audience was electric.  Community members gathered to get their numbers, dance, and move outside. We started with an energetic warm up Zumba session with Lisa Charles of Embrace Your Fitness and Team USA World Junior Championship Coach Lisa Morgan.
For many participants, this was their first 5K, and for others this was another challenge to champion. There were a few hills that everyone conquered with strength, and the volunteers eagerly gave high fives to runners as they passed.
We are thankful to everyone who put in focus, energy, and time into making this event a success. You truly demonstrated that we can come together to celebrate our wellbeing.
Thank you also to Mayor Ras J. Baraka and the City of Newark for supporting this event. We appreciate the participation of U.S. Olympic sprinter Miki Barber, RWJBarnabas President Darrell Terry, Tarik "Black Thought" Trotter of The Roots, and host Dupre "DoItAll" Kelly of Lords of the Underground.
To the Speedway Academies team and students, we appreciate your attendance and your support.
To the youth of Bloomfield College Track and Field, who took first, second, and third place prizes, we are grateful for your energy and spirit.
We would like to extend a special thanks to our community partners who donated resources and time to help us make this a truly remarkable event:
211 Community Impact
BAEO
Believe in Newark Foundation
Black Men Run
City of Newark Department of Health and Community Wellness
Newark YMCA
RWJBarnabas Health
Signature Fitness
To LaTrice Verrett, the singing of the Black National anthem gave us all chills. To Jah People, the melodic sounds of Bob Marley united us all. Thank you for traveling from Philadelphia to lend your support.
We appreciate our super SuperGirls: Alexis Boykins, Amina Anekwe, Ariyan Wint, Fedila Stith, Jacsyn Scott, Marley Dias, Sana'a Smith, and Tori Fergus as well as SuperParents Atiyah Rhodes, Carl and Dawn Stith, Sunne-Ryse and Kyle Smith, Tosha Lawson, Sherille Raymond, Sonia Fergus, Tony Hayes, and Lisa Maxwell for volunteering, helping to keep us hydrated and directing and cheering on the runners.
Thank you to all of our runners, walkers, donors, and sponsors for your support. We are so grateful to you for making the event a huge success. It was so great to see community members join together.  See you again next year on October 6, 2017.
A huge thank you to our volunteer team:
Aleia Moore
Alexandra Hill
Amy Kelly
Anthony Smith
David Coughlin
Divine Roberson
Grace Williams
Ib'nallah Kazi
Jensine Wright
Khaatim Sherrer El
Kym Gilchrist
Langston Scott
Margaret Collins
Mesha Allen
Michelle Alcaraz
Montez Roberts
Patrice Barnett
Quanisha Burgess
Richard Whitten
Sabrina Webb
Shanell Dunns
Sonda Smith
Takeya McLeod
Tish Johnson
Wendy McKenzie