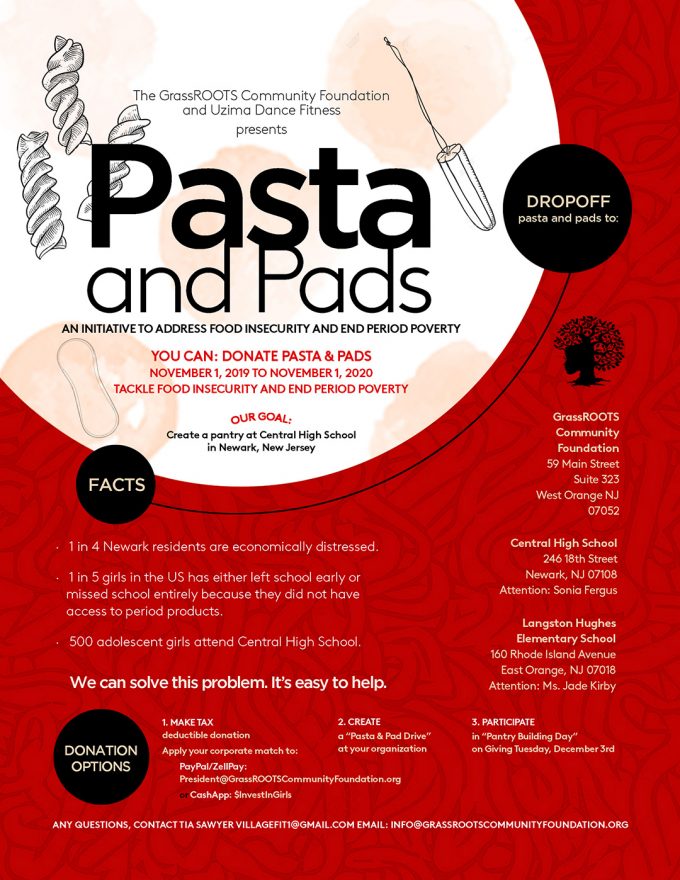 Period Poverty and Food Insecurity are harming our girls
In 2019, GrassROOTS members have provided over 50,000 sanitary napkins to 1000 girls in the US, Jamaica and Ghana—yet that is not enough.  1 in 4 girls will miss school each year because they do not have the supplies necessary to have a healthy period. These same girls are often recipients of free and reduced meals. In New Jersey, we have partnered with Uzima Dance Fitness to build a pantry at Central High School.
On Giving Tuesday, GCF and our partners will be stocking the shelves at Central High School.
If you are in the New Jersey area, you can drop off dry goods or sanitary supplies at:
GrassROOTS Community Foundation
59 Main Street
Suite 323
West Orange NJ 07052
Central High School
246 18th Street
Newark, NJ 07108
Attention: Sonia Fergus
Langston Hughes Elementary School
160 Rhode Island Avenue
East Orange, NJ 07018
Attention: Ms. Jade Kirby
Donation options
1)  Make tax deductible donation & apply your corporate match to:
ZellPay: President@GrassROOTSCommunityFoundation.org
CashApp: $InvestInGirls
2) Create a "Pasta & Pad Drive" at your organization
3) Participate in "Pantry Building Day" on Giving Tuesday, December 3rd
See our video or our recent work around this effort in Ghana