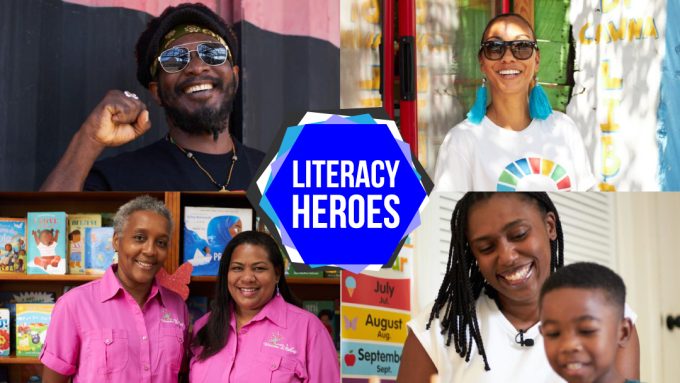 Literacy Heroes Project Launched!
Since 2020, you've been supporting our annual efforts in Jamaica for Education Week projects in collaboration with the Book Industry Association of Jamaica (BIAJ). Your kindness and contributions have positively impacted several students, schools, and communities who now have increased access to diverse books. Thank you! Last year, we directly impacted over 3,000 students in 40 schools across the island. Your investments have undoubtedly improved the lives of Jamaicans. We are grateful to our foundational partner JetBlue without whom we would not have been able to get the books to Jamaica. We are equally thankful to the National Education Trust (NET) Jamaica who helped us to clear the books at Jamaican ports, and to National Education Association (NEA) Read Across America for its financial contribution to these efforts.
Thanks to our energetic parish ambassadors, in 2022, we were able to bring over 2,000 books to Jamaica, and sourced books from local authors with funds raised. For a video of last year's #READACROSSJA in collaboration with the US Embassy in Jamaica watch:
Literacy Heroes Project Launched!
The funding support from NEA helped the BIAJ to launch an important project – Literacy Heroes – with the goal to identify, highlight, and reward community volunteers and educators who have gone above and beyond to serve their students and communities.
Below is the list of the inaugural winners of the Literacy Heroes Award.
I-Nation Books and Necessities was initially created as a mobile Pan-African bookstore two decades ago after the founder, Kirk Scarlett was unsuccessful in his search for Pan-African literature in local bookstores. His passion for inspiring change in the youth in his community led him to use the power of books to make a difference. I-Nation can even be credited for feeding the minds of now-established reggae artists Jah9, Protoje, and Kabaka Pyramid.
Di Cawna Library is located in Rose Town, on the corner of Duff & Moore Streets in South St. Andrew. The project is led by Rachael McDonald, a trained educator and early childhood specialist. Di Cawna was designed to support Sustainable Development Goals (SDGs) number 4 and 11, and therefore promotes access to quality education, for adults and children to contribute to sustainable and peaceful communities. Three repurposed refrigerators – now bookshelves – allow people to borrow, read and return books at any time.
Winsome Wishes For Kids was launched in 2020 and has worked to assist struggling learners as a core part of its mission. A philanthropist at heart and inspired by the love of books of her late sister Winsome, Simone Sobers set out to serve the local community of Jamaican children living with intellectual disabilities. Winsome Wishes For Kids focuses on equipping teachers with innovative tools to match students' various learning styles, and most importantly, provide access to literature to nurture a positive relationship with reading.
Marion Carter & Luca Phillips, are a mom-and-son duo who started an online community on Instagram (@thisboyisbooked) where they share their love for books and reading with their followers. The books shared are deliberately chosen to reflect Caribbean culture, history, and experiences that Marion wanted Luca and other children to relate to. Today, the page is a growing resource for parents, educators, or anyone who wants to easily identify fun and educational books with positive cultural representations. Their latest effort has been collecting children's books to donate to children in need via schools, homes, and community libraries.