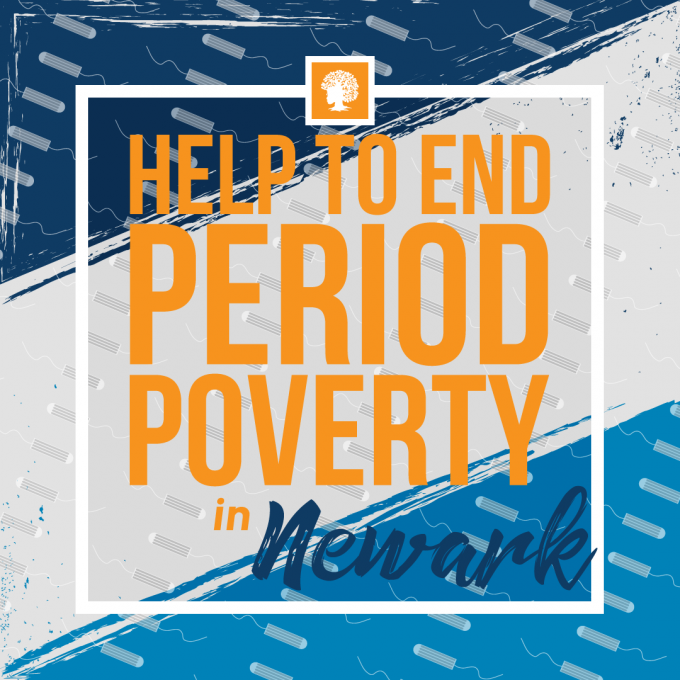 End Period Poverty in Newark NJ
Girls in poverty will miss almost one third of a school year, simply because they are a girl. Thirty-seven states tax girls and women for period products.
As early as age 9, the majority of girls will begin menstruation. This launch into womanhood constitutes many changes to their lives. For girls with meager and limited resources menstruation introduces new and more stressful financial burdens. The consequences of which can impede their educational achievements. The effects are compounded for those who experience financial distress. Girls who live in poverty often do not have the funds to buy sanitary napkins. As such many will miss up to one week of school per month—a total of 3 months per school year because of their periods. These are often the same girls who are eligible for free and reduced lunches. Therefore, many girls will stay home hungry and in pain.
Within the US, the problem is compounded because of the sales tax placed on sanity napkins. Of the 50 states the majority of states—37 in total—charge sales tax on sanitary napkins. We are punishing women and girls for having bodies that reproduce.
Average cost of sanitary products in one month is between $25-$30 monthly or almost $400 per year. On average, women have their periods for roughly 36 years; the cumulative costs will be over $10,000 over their lifetime.
This problem of punishing women for having their periods is ubiquitous across the globe. Yet 100 percent of the population requires that women menstruate. The hypocrisy is clear.
Beginning on Martin Luther King Jr. day of service we are asking you to write to your senators and ask them to pass legislation that removes the sales tax from all sanitary items. Ask them to join the 13 states in ending period poverty.
Because we know change takes time, we are also asking that in the interim you donate sanitary napkins to Central High School in New Jersey. This school is home to our GrassROOTS Branches program, and almost half the population is girls. More than a quarter of Newark residents live below the poverty line.
Help us in stopping period poverty. Give TODAY!!
You can support this worthy cause by sending a financial donation or sanitary supplies to
GrassROOTS Community Foundation
59 Main Street, suite 323
West Orange, New Jersey 07052
Want to learn more, watch this 
video