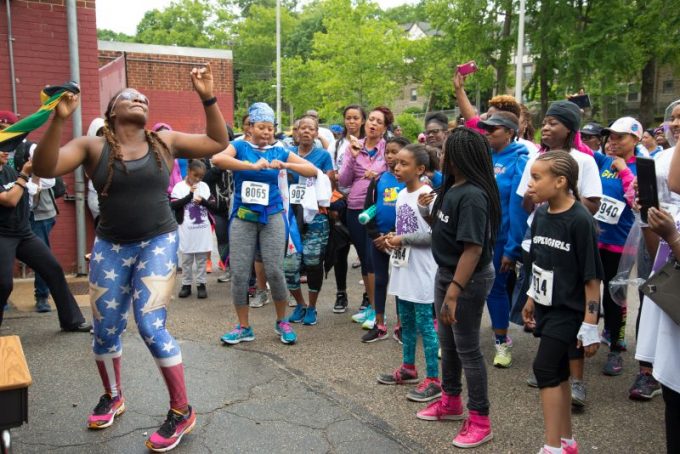 5th Annual R3: Roots, Rock Run 5k Race
GrassROOTS Community Foundation's fifth annual R3: Roots, Rock Run 5k race was held on Saturday, June 3rd. Nearly 400 women, men, and children came out to the Anna L. Lingelbach School in Germantown to enjoy the interactive and fun morning of family wellness activities. The event provided something for everyone including free giveaways, music, and medals. The three top winners ran an average of 20.79 minutes. They each received race medals and the top two winners received tickets to the Roots Picnic. Three of the four youth winners participated in GrassROOTS' 10-week race training program held at Waterview Recreation Center.
Philly reggae band Jah People opened the event with live reggae providing the perfect vibe to get participants moving and ready for their run. Keeping the energy high was emcee Montez "Spon" Roberts who presided over the day and represented the adults in an "Old School vs. New School" dance contest. DJ Scotty Nevers kept the music flowing throughout the day.
Adding to the excitement of the day, Philly SuperGirls received their awards for participation in GrassROOTS' LEAVES leadership and wellness programs at Lingelbach and the Waterview Recreation Center.
A special highlight was the SuperGirls performance of "Man in the Mirror" alongside vocalist Iyona Laurell and band The Suburban Station.
We are thankful to Lingelbach School Principal Lisa Waddell for welcoming the crowd, Councilwoman Cindy Bass and State Representative Stephen Kinsey for supporting this event and to our major supporting sponsors BlackGirlsRun and GirlTrek. We also send a huge thank you to our energetic volunteers who fueled the day and kept everything running smoothly.
Volunteer Team Members:
Alice Stricker
Amy Kelley
Chandra Pointer
Darron Waller
David Coughlin
Dave Johnson
Divine Roberson
Dominique Massiah
Fran McDaniel
Griselda Thomas
Imani Roberson
Jason Floyd
Joy Widgeon
Lily Fung
Kenya Massie
Lutando Hamilton
Mary Stricker
Michelle Alcaraz
Montez Roberts
Naeemah Afi
Nancy Wright
Nicole Viaud
Patrice Barnett
Queen Manns
Robin Bates
Sabrina Webb
Sonia Fergus
Stepping Stone Scholar Students and Chaperones
Takeya McLeod
Ugochukwu Chiaka
Victor Samson
SuperGirls Amina Anekwe, Ariyan Wint, Jacsyn Scott, Marley Dias, and Tori Fergus also volunteered and helped with the important task of putting on tattoos.
We would like to extend a special thanks to our community partners and vendors:
Green Dandelion Marketing & Sales
Life Health Strength Physical Therapy
Philly Urban Creators
Zen Elements Boutique
Ra Hall of Artthrutheyeovra Photography
A special thanks to our Race Director David Coughlin, the Philadelphia Police Department, EMS, SEPTA, and the people of Philadelphia for all their support and for keeping us safe.
We also send a very big thank you to Andrea Ciprianni Mecchi for the great referral of Kendon Photography. Kat was great.
Be sure to save the date, September 30, 2017 for Roots, Rock, Run 5K, Weequahic Park, Newark, New Jersey. Register here: https://runsignup.com/Race/NJ/Newark/RootsRockRun5KNewark.
NJ SuperGirl Huntar will also host her FoodforLife Summit.
For information about Roots, Rock, Run 5k events: Contact David Coughlin at dcoughlin@grassrootscommunityfoundation.org or by calling 862.520.3756.
Interested in Volunteering for a GrassROOTS event.
Public Events: Contact info@grassrootscommunityfoundation.org