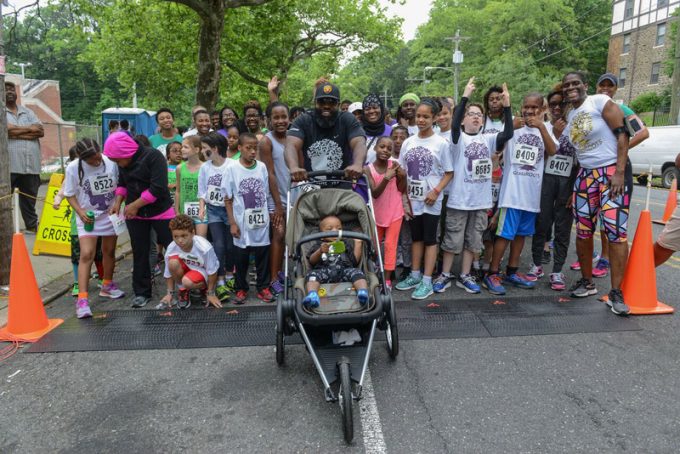 4th Annual Roots, Rock, Run 5K Community Walk/Run
On Saturday, June 4th over 400 people enjoyed an interactive fun morning of family wellness activities.  For the fourth year in a row, GrassROOTS Chairman of the Board Tarik "Black Thought" Trotter, from the Legendary Roots Crew, led the race showing us why he is one of the greatest of all times. Before giving an epic performance at the Roots Picnic, he led the race while pushing his baby son in his stroller. He is truly leading by example. The event provided something for everyone including free giveaways, music and medals. Winners earned the GrassROOTS Community Foundation coveted plaques and four tickets to the Roots Picnic starring Usher. Youth and adult age group winners also won medals.
As with all GrassROOTS Community Foundation events the music this year was wonderful. The stage showcased an exciting line-up of performers including event deejay DJ Scotty Nevers. We were honored to have a special set from the amazing J. Period who this year had to sit out of his usual running. Nonetheless, he found a way to contribute. Philly reggae band Jah People opened the show with live reggae, truly a fitting start to the day. Also joining us on stage was youth sensation Summer Valentine who gave an energetic performance. Keeping the energy high was our own Montez "Spon" Roberts who emceed the event and represented the adults in an "Old School vs. New School" dance contest.
Proceeds from the race support GrassROOTS afterschool health programs in Philadelphia including our afterschool wellness program LEAVES for middle school girls and our 10-week race training program. Supporters of this year's race include the City of Philadelphia, Philadelphia Health Department, The Office of Councilwoman Cindy Bass, The Office of State Representative Stephen Kinsey, Chop Chop Magazine and a host of community partners and vendors.
For information about Roots, Rock, Run 2017: Contact David Coughlin at dcoughlin@grassrootscommunityfoundation.org or by calling 862.520.3756.
Interested in Volunteering for a GrassROOTS in Philadelphia?
Public Events: Contact Takeya McLeod at tmcleod@grassrootscommunityfoudation.org
Afterschool Programs: Diana Gonzalzez-dgonzalez@grassrootscommunityfoundation.org
Community Partnership: Naeemah Afi—nafi@grassrootscommunityfoundation.org