2015 GrassROOTS Give Thanks Cocktail Fundraiser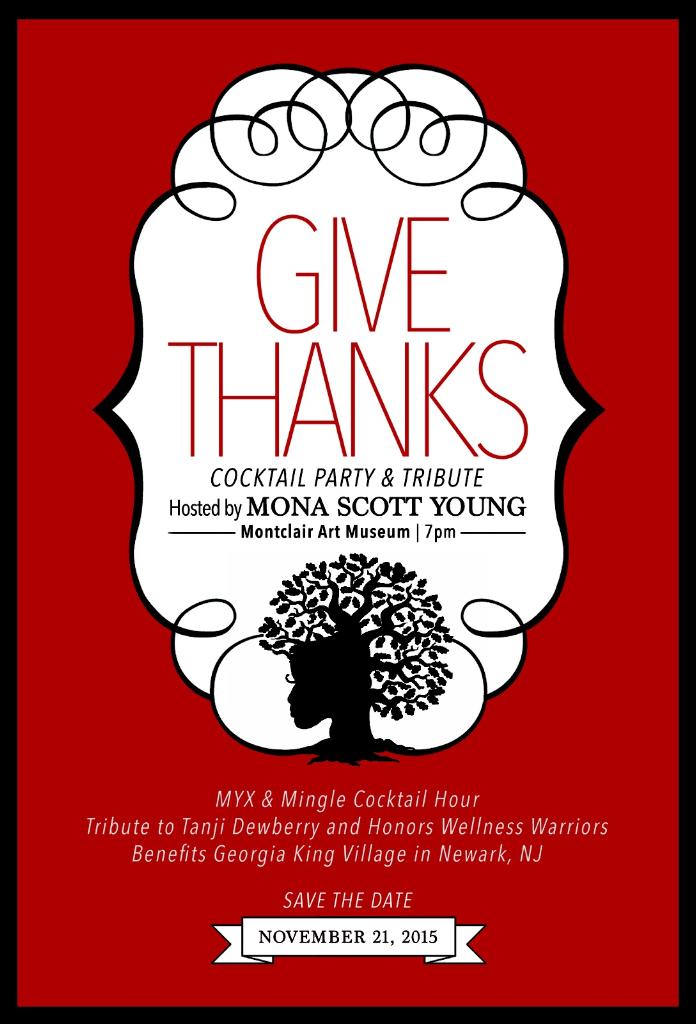 Saturday November 21, 2015 from 7:00 PM to 11:00 PM (EDT)
Montclair Art Museum
3 S Mountain Ave,
Montclair, NJ 07042
GrassROOTS Community Foundation presents the 4th Annual Give Thanks Cocktail Fundraiser & Tribute hosted by Board Member Mona Scott Young.
In the spirit of Tanji Dewberry, GrassROOTS honors its' Wellness Warriors. Tanji was a GCF partner who suffered from a severe mental health challenge. At times she experienced great success and others she succumbed to the pain. Sadly we lost Tanji and her son to a house fire in 2013. We celebrate her warrior spirit by honoring three women, who despite facing personal challenges, have met their obstacles as opportunities. Funds raised from this event go to support the Georgia King Housing Development in Newark, NJ. For the past four years, GrassROOTS give thanks by providing needy residents with a 20lbs turkey and a 5lbs bag of fruit and vegetables.
Our goal is to raise $30,000 in support of GrassROOTS' wellness programs for residents of Georgia King Village and throughout New Jersey.
MYX & Mingle cocktail hour with music by Enoch Smith Jr. Jazz Band from 7-8pm.
Tribute to the late GrassROOTS supporter Tanji Dewberry and two Wellness Warriors: Kym Gilchrist and Sonia Fergus, cancer survivors
Music by Kindred The Family Soul and DJ Scotty Nevers
Click on the RSVP button above to purchase tickets.
An online auction launched one month before the GrassROOTS Give Thanks Cocktail Fundraiser and Tribute. Hosted by auction website, www.biddingforgood.com, the auction contains a variety of items unique, high end items donated by GrassROOTS Board Members, Tarik "Black Thought" Trotter and Mona Scott Young. There are also items such as premium Yankees Tickets and luxury vacations to be bid on.
Click on the Online Auction button above to see auction items.
GrassROOTS Board and Team Members compete to see who can raise 100 turkeys each. As public figures, Board Chairman Tarik "Black Thought" Trotter competes against Board member and entertainment mogul Mona Scott-Young. Board Treasurer Lisa Maxwell competes against Board President Dr. Johnson Dias and Executive Director Ali Scott competes against Administrative Manager Tenisha Malcolm.
Contest begins on October 21st and ends November 21, 2015. The winner is announced on the evening of the GrassROOTS Give Thanks Cocktail Fundraiser at the Montclair Art Museum held on November 21st. Proceeds from the fundraiser benefit yearlong programming at Georgia King Village in Newark, NJ.
Click on the Donation button above to make a donation via PayPal. When you enter your donation, make sure to include the team you would like to support.