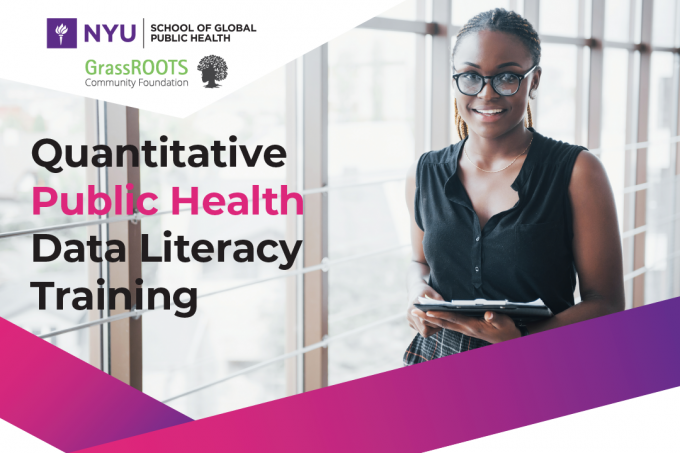 Quantitative Public Health Data Literacy is back!
NYU School of Global Public Health and the GrassROOTS Community Foundation
present
Quantitative Public Health Data Literacy Training
Get real-world data literacy training
Explore. Visualize. Model. Make inferences
The global pandemic increased the public's demand for information. Almost daily, media and policymakers present numbers on testing, deaths, hospitalization rates, and vaccine distribution. This information often includes data visualizations and tables viewers must interpret to better understand the pandemic's scope and its impact on local communities and countries worldwide. As a result, there is a need for a new vocabulary (e.g., flattening the curve, epidemiology, public health, pandemic) around public health and data literacy.
The third installment of this course is perfect for health care students, administrators, educators, policymakers, social media influencers, publicists, journalists, and law enforcement.
We highly encourage those who live and work with members of vulnerable populations to apply.
---
June 6 – June 29
Mondays and Wednesdays
11:00am-1:00pm
Online

The 4-week bootcamp is offered free to all students.
Deadline to apply is June 1, 2022
---
For more about Drs. Goodman and Johnson Dias' collaborative work on increasing research and data literacy see:
Goodman, Melody, Janice Johnson Dias, and Jewel Stafford. (2010). Increasing research literacy in minority communities: CARES fellows training program. Journal of Empirical Research on Human Research Ethics, 5 (4), 33-41.
Goodman, M. S., Gbaje, E., Yassin, S. M., Johnson Dias, J., Gilbert, K., & Thompson, V. (2018). Adaptation, Implementation, and Evaluation of a Public Health Research Methods Training for Youth. Health equity, 2(1), 349–355.
Bather, Jemar, Johnson Dias, J. & Goodman, M. 2022. The Demand for Literacy Training on Quantitative Public Health Data. AmStat News.
In lieu of payment for the course, donations can be made to the GrassROOTS Community Foundation by clicking HERE
---