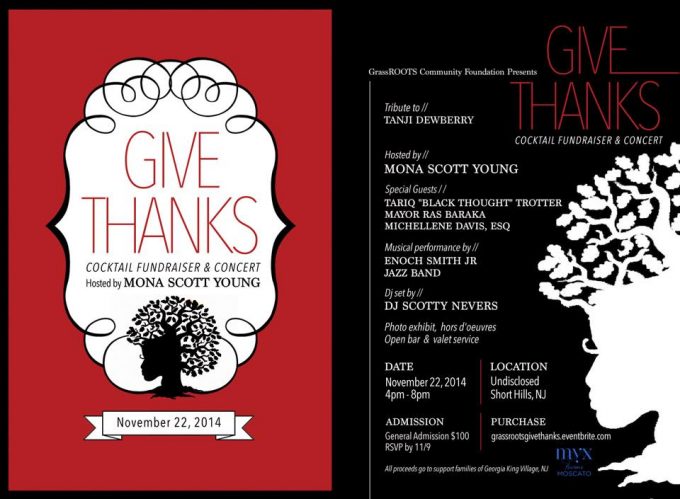 GrassROOTS Give Thanks: Cocktail Fundraiser & Tribute
Fundraising Goal: $20k
Date: November 22, 2014
Time: 4-8pm
Host:  Mona Scott Young
Special Guests: Tariq "Black Thought" Trotter of The Roots, Mayor Ras Baraka, Michellene Davis
Music: Enoch Smith Jr. jazz band & DJ Scotty Nevers
Dress: COCKTAIL CHIC
Supporters: MYX Fusion Moscato & City National Bank
Photo Exhibit,  Hors D'oeuvres, Open Bar &  Valet service
For the past three years, GrassROOTS has provided turkeys to the residents of Georgia King Villagein Newark, New Jersey. To date, GrassROOTS has donated almost 100 turkeys. To raise funds, GrassROOTS hosts an annual turkey drive event. Last year's celebration was held at the home of long-time GrassROOTS supporter Ms. Tanji Dewberry who held the belief that when we give we get. Each turkey was labeled with an inspirational "love tag" (a message of hope and goodwill) from Girl Scout Troop #40724. In 2013, GrassROOTS provided 35 turkeys to residents of Georgia King Village and donated an additional 15 turkeys to St. Matthew AME Church in Orange, NJ.
Unfortunately, Ms. Tanji Dewberry (pictured above) and her 8-year-old son Evan died in a house fire in April. To honor her giving spirit, this year GrassROOTS will honor Ms. Dewberry's at its newly titled "Give Thanks" cocktail fundraiser. Proceeds and funds raised will go to the purchase of turkeys for the residents of Georgia King Village and to the support of an onsite health program for mothers and children at Georgia King Village.
On Monday, November 24th, Girl Scout Troop #40724 and the GrassROOTS Super Campers will distribute turkeys to the residents of Georgia King Village.
This year's goals:
Raise $20k for year-long health program for mothers and children
Provide 100 turkeys to Georgia King Village residents
CAN'T ATTEND: Donate a $25 for a turkey. We welcome on-line donations or you can mail a donation to 634 Eagle Rock Ave, Suite 295, West Orange, NJ 07052. GrassROOTS is a 501c3 and all donations are tax-deductible.
---
About Georgia King Village
Georgia King Village is located in the West Ward of Newark, NJ. The private housing development with over one thousand residents; the overwhelming majority (80%) receive a public housing subsidy. Single, black mothers head the majority of the households. Most residents participate in the labor force, but lack the income to be fully economically sufficient.  Newark, the West Ward neighborhood, and GKV have long been challenged by poverty and violence. Almost 30% of Newark's residents live below the US poverty threshold. In 2007, four college students were killed by execution-style shootings that were part of a gang initiation in a large public park in the West Ward. From 2009 to 2010, murder, rape, robbery, assault and auto-thefts in the West Ward increased (36%, 50%, 12%, 14% and 9%, respectively). In the Village in 2009, the Newark police reported 7 aggravated assaults, 13 robberies, 6 shootings, and 11 auto thefts.