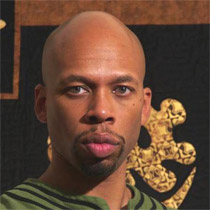 Dr. Akil Kokayi Khalfani is a Change Agent, Motivational Speaker, Author, Actor, and Professor. He has served as the Director of the Africana Institute and Associate Professor of Sociology at Essex County College since 2005. He is the author of, The Hidden Debate: The Truth Revealed about the Battle over Affirmative Action in South Africa and the United States, which was nominated for two national awards: the Oliver Cromwell Cox Award and the American Sociological Association's Distinguished Book Award. He is currently working on the 5th edition of Introduction to Sociology: Understanding Our Social World.
Since 2011, he has been the Host and Executive Producer of The Pulse: a televised talk show that explores the diversity of the African global experience. He has given keynote addresses at the United Nations and for various corporate and government organizations such as KPMG and the Transportation and Security Administration (TSA). Additionally, he has given graduation and keynote addresses at various secondary schools and universities nationally and internationally. He sits on the Editorial Board for the Association of Black Sociologists' journal entitled Issues in Race & Society: An Interdisciplinary Global Journal.
Dr. Khalfani has been recognized for his community service work by the United States Congress, the California State Senate, and several municipalities in New Jersey. He is currently a Commissioner on the West Orange Human Relations Commission. Previously, he served as Co-Chair for the Education Committee for the City of Newark's African Commission and as a member on the Essex-Newark Coalition to End Homelessness. He previously served as President and Vice President of the Board of Trustee for Adelaide L. Sanford Charter School.
Dr. Khalfani was previously a candidate for West Orange Township Council and Essex County Freeholder in New Jersey.
Dr. Khalfani earned a Ph.D. and a Master's degree in Sociology from the University of Pennsylvania, from which he also earned a Certificate in African Studies. Additionally, he studied at the University of Pretoria in South Africa. He earned his Bachelor's degree also in Sociology from the University of California at Santa Cruz. His areas of expertise are Africana Studies, race relations, social stratification, and developing solutions to social problems.
He lives in West Orange with his wife Sia and their four children.