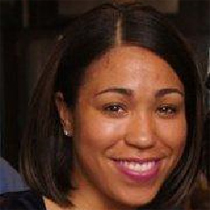 Talia Lauren Young, born and raised in Teaneck, New Jersey; stands by the mission of proactive relationships will create local solutions that can then become national and international resolutions.
Young presently serves as Assistant Vice President of Public and Government Relations for City National Bank of NJ.  As the only African American owned and operated Bank in New Jersey, Ms. Young manages and directs the company's external affairs, corporate branding, philanthropic donations and institutional banking portfolio.  Under Ms. Young's leadership, the bank received the 2013 NJ Bankers' Community Service Award in recognition for its social impact initiatives around financial education and corporate engagement.
Previously, Ms. Young served as the Senior Project Specialist for United States Senator Frank R. Lautenberg with a focus on statewide Economic Development, Education, Housing, Social Service, Small Business and Faith Based Initiatives. She has also worked as the Constituent Relations Director for NJ District 37Legislative Office and as the Bergen County Chair for President Barack Obama Primary Campaign. Before her interest in politics, Young developed a background in high-end event planning in Miami Florida for Donald Trump and other Corporate 100 Companies.
Ms. Young has found a passion to advocate for urban economic opportunities, women empowerment initiatives and community sustainability. Most importantly, she remains connected to her community as a mentor, activist and advocate for the cultivation of arts education and appreciation. For the past 16 years Young has worked with the Terpsichorean Modern Dance Group as a choreographer, mentor and Artistic Director with over 200 young dancers.
Within that vein, Young understands that through God's blessing and foundation all things are possible. Raised in a Baptist church, Young found at an early age that praise dance was her greatest expression of Gods impact in her life, and continues to choreography in expression of her faith. Young is a member is a member of Ebenezer Baptist Church in Englewood New Jersey, where Reverend Jovan Davis is Pastor.
In 2015 Young was appointed to the Commission on the Status of Women for the city of Newark. Young also serves on the Board of Trustees for the Cross Roads Theater Company, Newark Symphony Hall, Chair of the Women's Caucus of NJ Young Democrats and is also a member of Alpha Kappa Alpha Sorority, Incorporated.  Young was recently honored by Omega Psi Phi Uplift Award, the New Jersey's General Assembly for 2012 Women's History Month, and the Bergen County Urban League 2012 Community Impact Award.
Talia L. Young earned her bachelor's degree from Hofstra University with a major in Communications and Public Relations. She is currently a candidate for masters' degree at the Milano School for Public Policy with a concentration in Urban Policy Analysis.