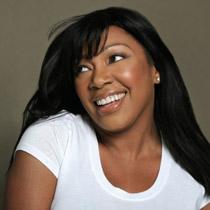 Wendy McKenzie has come into her own as a rising 'in demand' casting director, acting coach and motivational speaker. Stepping out from the shadow of her notable casting mentors; Tracy "Twinkie" Byrd, Anissa Williams and Tracey Moore, Wendy has defined her technique and approach to effectively create her own casting brand.
When first meeting Wendy in a casting environment or at a workshop, her 6'1" stature presents an undeniably commanding presence, but her effective motivation and no-nonsense demeanor provide her the ability to dig deep into a students psyche to allow them to identify, draw upon and own their character. Her methodology challenges the Actor to challenge themselves in a way that is often not effectively taught by the traditional practices of acting classes. Once the actor is able to truly connect with Wendy's guidance, a universal "ah ha" moment is born. Wendy inevitably leaves an indelible mark upon the actors, students and those aspiring to improve their craft.
Wendy began her career in the entertainment industry as a fashion model. At a booked video shoot, the casting director realized that she needed additional models to complete the job. Wendy offered her services to assist the casting director with coordinating a last minute casting. Realizing that she had a knack for recognizing talent, she began to freelance on numerous casting projects. Early in her career, she worked with prominent casting director, Tracey Moore, to cast for "New Jersey Drive". Wendy was part of the team that welcomed then newcomer, Christopher Wallace, aka "Notorious B.I.G." to the project. She partnered with mentor, Tracy "Twinkie" Byrd to cast memorable music videos for artists, Jennifer Lopez, Mariah Carey, Britney Spears, Lauryn Hill, Wyclef Jean and numerous others. Branching off on her own, Wendy became a regular casting facilitator for MTV On Air Promos such as "Yo Mama", "Sucker Free Sunday" and product launches and ad campaigns for G-Unit Clothing, 7th on 6th Fashion week, "Fusha Designs" and numerous others.
The pivotal point in Wendy's career occurred when she was hired to serve as lead New York Casting Director for Fox Searchlight Pictures, "Notorious", the biopic story of rapper, Christopher Wallace. The ten month long casting project lauded Wendy with the coo of finding and introducing, Jamal "Gravy" Woolard, who convincingly played the role of "Notorious B.I.G.".
While working on the Notorious project, Fox Searchlight asked Wendy to provide limited casting services for "Secret Life of Bees" and the 2010 Academy Award Nominated, "The Blindside". For the second time, Wendy successfully introduced a new talent, Quinton Aaron, to a major motion picture project. Quinton Aaron was cast in the role of Michael Oher.
Wendy gives substantial credit to the prodigious directors that she has had the good fortune to work with on large scale projects. These directors include, George Tillman Jr., Dave Meyers, Brett Ratner, Lauryn Hill, Matthew Rolston, Queen Latifah and Antonio McDonald (MTV). She acknowledges that her keen casting eye and sensibilities have been enhanced by these director's creative vision and mastery of the filmmaking craft.
Wendy continues to define and expand her proficiencies in the casting industry while staying relevant to the trends of the industry. Wendy McKenzie's talents are unique and filled with Endless Possibilities. Once experiencing Ms. McKenzie's workshop, each student becomes more self-aware and able to effectively access the appropriate emotion. Wendy has a passion for enhancing an actor's ability, which translates into actors' landing substantial roles and developing successful careers.
With that said she believes we should…
"DREAM BIG" & "NEVER STOP LEARNING