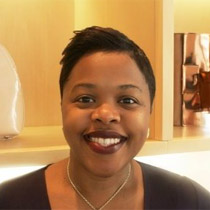 Nia R. Hooper-Mason is the Founder and Chief Style Architect of The Life-STYLE Concierge.  The Life-STYLE Concierge (TLSC) is a full service Wardrobe Styling and Image Consulting agency.  We currently offer our clients the following menu of services:  wardrobe consultation, wardrobe planning, event styling and personal shopping.  TLSC's mission is to create personalized style/image branding for women and men.  We will educate our clients on how to achieve their optimal image by employing strategic wardrobe and other style choices.  By implementing these customized style plans, we will increase our clients' confidence and maximize their productivity.
Upon graduating from Howard University with a Bachelor's in Business Administration – Finance, she began her career at Banana Republic as a Pacesetter in their Management Training Program.  From there Nia accepted a position at Saks Fifth Avenue where the foundation and building blocks of her career were firmly planted.  She climbed the "corporate ladder" over the next five and a half years and accepted a Men's Merchandising position at Bally USA.  In January 2006, Nia was recruited to Gucci USA in their Wholesale division responsible for Women's Footwear in North America.
In May 2007, Nia resigned from Gucci in pursuit of another of her career aspirations: to become a Costume Designer/Stylist. Two weeks later she was in Los Angeles working on her first feature film.  While there, she styled a number of clients for various events and worked in the Costume Department on several feature films.  In February 2008, Nia was inducted into the Costume Designer Guild.  In 2009, her dream was realized when she was hired to be the Costume Designer on "Yelling to the Sky".
After the economic downturn and its crippling effect on the non-studio backed segment of the entertainment industry, Nia accepted odds and end or freelance jobs to meet financial obligations.  In January 2012, one of those jobs emerged into a full time salaried opportunity in Nia's previous line of work.  She returned to corporate America with renewed goals, an updated toolbox and a new lens with an adjusted focus centered on working smarter not harder to achieve an improved work life balance.
Nia is a FIT Certified Image Consultant.  She currently lives in her hometown Brooklyn with the love of her life/husband Ricardo and their fifteen month old triplets.