Give Thanks Cocktail Fundraiser
November 17, 2018 @ 7:00 pm

-

10:00 pm

EST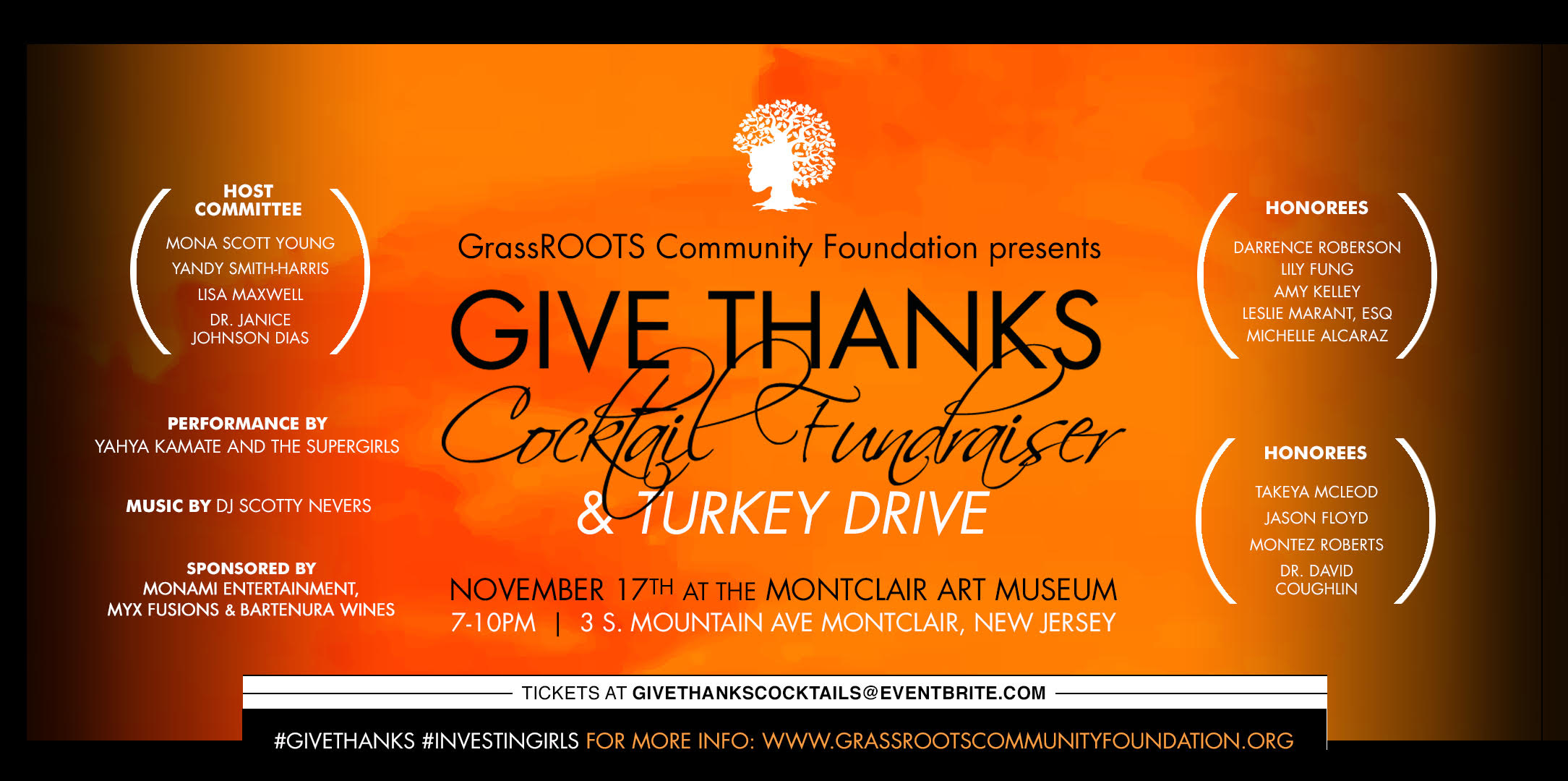 The 2018 GIVE THANKS Cocktail Fundraiser is being held at the Montclair Art Museum. Guests will enjoy the beautiful African drumming sounds of Yahya Kamate and poetry by the GrassROOTS SuperGirls. Following the award presentations, DJ Scotty Nevers will keep us on the dance floor all night.
For the past eight  years, GrassROOTS, through our intensive summer leadership camp and SuperGirls Society, has encouraged and activated girls to become youth leaders and changemakers.
Through their local, national and international meeting and training program, these SuperGirls have developed a series of social actions projects via the following programs:
#MathWizGames held free STEM (science, technology, engineering & mathematics) games for girls
#1000BlackGirlBooks collected 10,000 books and donated 2,000 books to local schools and libraries
#RoomForChange program decorated and redesigned rooms at the YMCA in Newark for unaccompanied minors
#FullCourtDress collected and donated winter coats, hats and scarves for youth experiencing housing insecurity
#Food4Life Summit organized food justice games to educate young people on healthy eating
RWJBarnabas HealthCare Fellows Program:
25 hours of training by doctoral level scholars on healthcare and health disparities
6 hour training on implicit bias and professional development
32 hours of onsite experiential learning under the leadership of top level healthcare executives. Girls explore various aspects of health care including policy, pharmacology, and marketing, and develop a culminating capstone project.
Accomplishments in 2018:
SuperGirl Marley Dias published her book, Marley Dias Gets It Done and So Can You.
SuperGirls launched #GreenRibbonWeek- a public health initiative to promote positive mental health for youth.
In 2018, we expanded our summer leadership camp to serve more girls in Philadelphia
We also partnered with New York University to increase our girls' training in public health. Click here for a video of our work.
This year we are honoring our "Philly Collaborative": an extraordinary group of community change agents who have helped in training over 300 youth as well as directed and organized our largest public health initiative (#RootsRockRun5k training and race). For the past 6 years Roots, Rock, Run 5k race and training program has served over 3000 individuals. We are grateful to them for their unwavering commitment to our health and well-being.
Honorees:
      Amy Kelley
      Darrence Roberson
      Dr. David Coughlin
      Jason Floyd
      Leslie Marant, ESQ
      Lily Fung
      Michelle Alcaraz
      Montez Roberts
      Takeya McLeod
GIVE THANKS Corporate Sponsor Opportunities (Contact us to participate)

Brand mention and logo in program and in all pre and post-event press and recaps.
Brand/Logo on step and repeat and all printed materials
Opportunity to include products in gift bags (Scholastic and Monami Entertainment)
Diamond Sponsorship- $15,000
Allows GrassROOTS to provide all below:
Send 5 SuperGirls to Ghana to support girls education
Platinum Sponsorship- $10,000
Allows GrassROOTS to provide all below:
 Full scholarship for 4 girls to attend SuperCamp, our summer leadership camp
 Family strengthening program for mothers of children
Gold Sponsorship- $5,000
Allows GrassROOTS to provide all below:
Full scholarship for 3 girls to attend SuperCamp, our summer leadership camp
Early Bird tickets ends October 30, 2018