2023 Roots, Rock, Run 5k and the Roots Picnic
June 3 @ 8:30 am

-

12:00 pm

EDT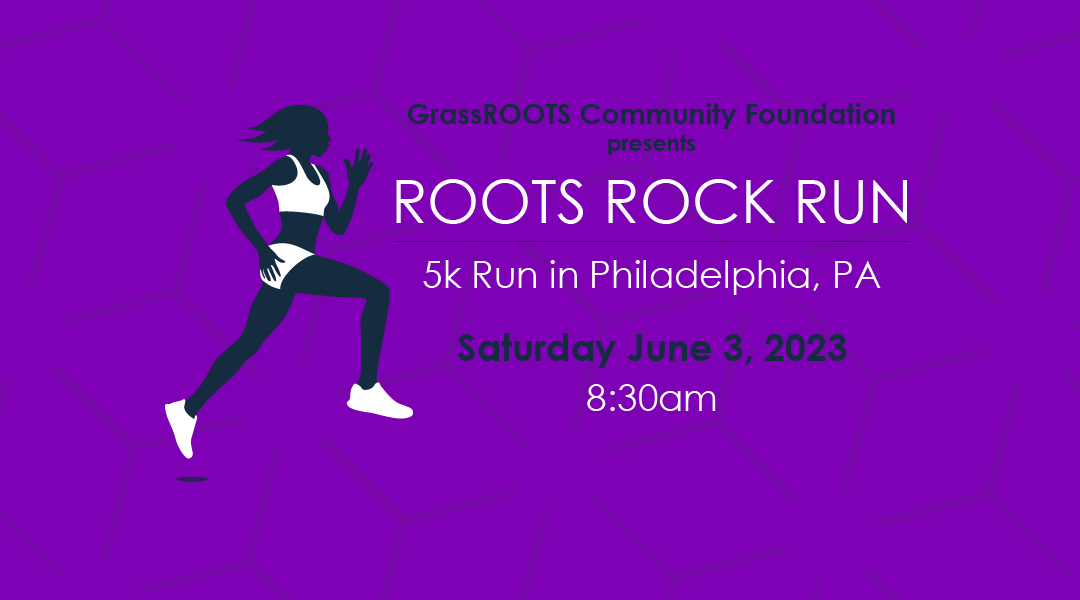 On June 3rd, the morning of the Roots Picnic, GCF will host our annual Roots, Rock, Run 5k. This annual event celebrates the life of Board member Lisa Maxwell and raises funds for our global efforts to end period poverty.
This year is particularly special because GCF has launched a new initiative, our Global Menstrual Equity Council (GMEC). Read below to learn all about this work spearheaded by Lisa Maxwell and her SuperGirl daughter, Amina Anekwe.
You can register for the race in person or virtually. Registration is open. The top 2 winners of the R3 will win free tickets to the Roots Picnic.
Marley Dias, founder of the #1000BlackGirlBooks campaign will be signing books. Bring a copy of Marley Dias Gets It Done and So Can You.
Free copies of Black Girl Books and Parent Like It Matters: How To Raise Joyful Change-making Girls will also be available for giveaway.
Music provided by DJ Scotty Nevers
Vision Statement:
The GrassROOTS Community Foundation Global Menstrual Equity Council (GCF GMEC)  envisions a world where menstrual equity is achieved, ensuring that all individuals have equal access to health education and menstrual products, empowering them to live healthy, dignified lives.
Mission Statement:
The mission of GCF's Global Menstrual Equity Council is to raise awareness, advocate for policies, and implement initiatives that promote menstrual equity worldwide. We strive to increase health literacy about periods, provide emergency access to menstrual products, and facilitate universal and sustainable access to menstrual products through policy advocacy.
Goals:
Increase Health Literacy: Promote comprehensive health education that includes menstrual and reproductive health, breaking taboos, and fostering understanding and acceptance of menstruation as a natural and healthy bodily process.
Provide Access to Menstruation Products: Develop sustainable solutions to ensure reliable access to affordable and environmentally friendly menstrual products, such as reusable pads or menstrual cups, particularly in areas with limited resources or infrastructure.
Advocate for Policies: Collaborate with local and global stakeholders to influence policies that support menstrual equity, including those that facilitate scientifically accurate health education and awareness programs that makes access to menstrual products ubiquitous.
Objectives:
Develop educational materials: Create culturally sensitive and age-appropriate resources on menstrual health, hygiene, and management, focusing on schools, community centers, as well as legal and healthcare facilities.
Establish distribution networks: Establish partnerships with organizations and communities to establish distribution networks that ensure the availability of menstrual products in under-resourced areas.
Engage policymakers: Collaborate with policymakers and influential stakeholders to advocate for legislation and policies that promote menstrual equity, including comprehensive menstrual health education as well as the provision of free or subsidized menstrual products in all public spaces.
Conduct research and data collection: Design research studies and collect data on the status and impact of menstrual inequity and the effectiveness of interventions, using evidence to drive policy change and program improvement.
Founding Member Countries:
Ghana
Jamaica
Kenya
South Africa
 United States
By pursuing these goals and objectives, GCF GMEC aims to contribute to the global movement for menstrual equity, creating a more equitable and inclusive society where menstruation is celebrated, understood, and supported.