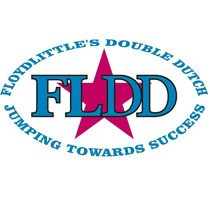 The founders of FloydLittle's Double Dutch (FLDD) Org have been well known participants in the sport of double dutch for over twenty years.   After winning 25 county championships, 24 State Championships and 16 World Championships, Laila Little and Shaquannah Floyd decided to start their own double dutch business.
Their focus is to expand the sport of double dutch throughout the state of New Jersey as widely as it is in most states and other countries. FloydLittle's Double Dutch mission is to promote educational excellence, personal growth and development, and good health skills in youth that will last throughout their lives.
FloydLittle's Double Dutch organization consist of a competitive team, two exhibition teams (Adult and Youth) and a residency program. The competitive team  consists of thirty-five competitive jumpers whom all maintain a required grade point average above a "C" to compete.  The team ranges from grades three to college.
After being active for one full year, the partners decided to launch a residency program and develop an exhibition team to help spread their mission.   The residency program consists of professional trainers and consultants that commute to other organizations developing new double dutch programs.
The performance team consists of an adult team of six jumpers and a youth team of five jumpers who travel nationally doing performances from birthday parties to national TV shows such as an XBOX commercial (Jump In), NBC 's reality show America's Got Talent, the movie Step Up II, Dr.OZ, The BET Awards and many more. FLDD now has their own docu-series called Jump! which was aired on The Lifetime Network Channel.
FloydLittle's Portfolio
Accomplishments
• 16 World Championship Team Titles
• 28 State Championship team titles
• 30 County Tournament team titles
Training and Establishing
Training:
Participated in American Double Dutch League's Boot Camp at Rutgers-Newark
American Double Dutch League's Coaches and Judges Training
Establishing:
The Cayman Island Double Dutch Program
North Star Academy
New Horizon Charter School
Red Oak Elementary School Double Dutch Team (Morristown)
Avon Avenue School Double Dutch Team
Upper Montclair After-school Double Dutch Program
South Orange-Maplewood After-school Double Dutch Program
West Side Boys and Girls Club of Newark Double Dutch Team
Township of Irvington's Double Dutch Team
Township of Roselle's Double Dutch Club